Nutrition-Rich Healthy Chocolate with Honey Sweetener
(April 13, 2022)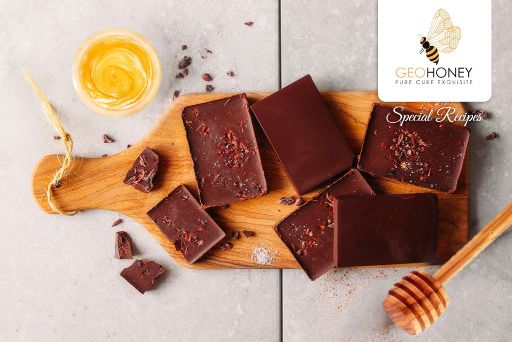 We all are very fond of chocolates, but we often end up preventing ourselves from eating one despite the immense craving because of the high sugar content they have! Geohoney thought of reproducing your favorite chocolates with a healthy twist - using honey as a sweetener instead of sugar. Well, this makes it healthy yet tastes absolutely like the chocolate you love! So, Why not? Let's get straight to the Geohoney nutrition-rich chocolate recipe with immense benefits apart from satisfying your temptations!
Ingredients
---
2.5 tablespoons cacao butter
3.5 tablespoons dry cacao powder
1 tablespoon raw honey (suggested white honey)
1/4 teaspoon vanilla extract (you can use other extracts if you wish to or remove it altogether)
Instructions
---
Heat the cacao butter over a double boiler and melt it until it reaches 122°F/50°C.
Now, add the cacao powder slowly by continuously stirring it.
Add raw honey and mix until all ingredients blend and the mixture attains 122°F/50°C.
Now add Vanilla extract as per taste!
Now is the time to set the chocolate right:
Pour the above-prepared chocolate mixture on a slab, preferably a marble slab; you can also use a cutting board for this purpose by greasing it with butter a little.
With a flexible scraper or a knife, spread the mixture as thin as you can or as thick as you want the chocolate to be.
Now, dip it up before you apply it again. Repeat the sequence, retaining the chocolate for about 10 minutes.
To test if you have finished tempering your chocolate, drop a little chocolate on the side of the marble, and observe the setting time. If it sets easily and quickly, you have finish tempering the chocolate.
Put this honey-chocolate into the molds of the shapes you love and allow it to cool for a few hours at room temperature.
You can avoid the setting process entirely and eat the chocolate directly! However, if you wish to make it just the way you get it in the stores, it must be followed as is! Geohoney recommends the usage of pure natural raw honey for this recipe as it ensures the right amount of nutrition. Also, it is healthier compared to the alternatives available in the market. To buy the honey used in the recipe above, visit Geohoney and get yourself a treat of the world's purest honey delivered to your doorsteps. Moreover, if you wish to ease all this process out, Geohoney offers you chocolate confectionary; try Geohoney's exclusive raw honey-chocolate available in both dark and milk chocolate variants with a variety of honey used.