Almond Honeycomb Cake – A Slice Of Heaven
(November 23, 2022)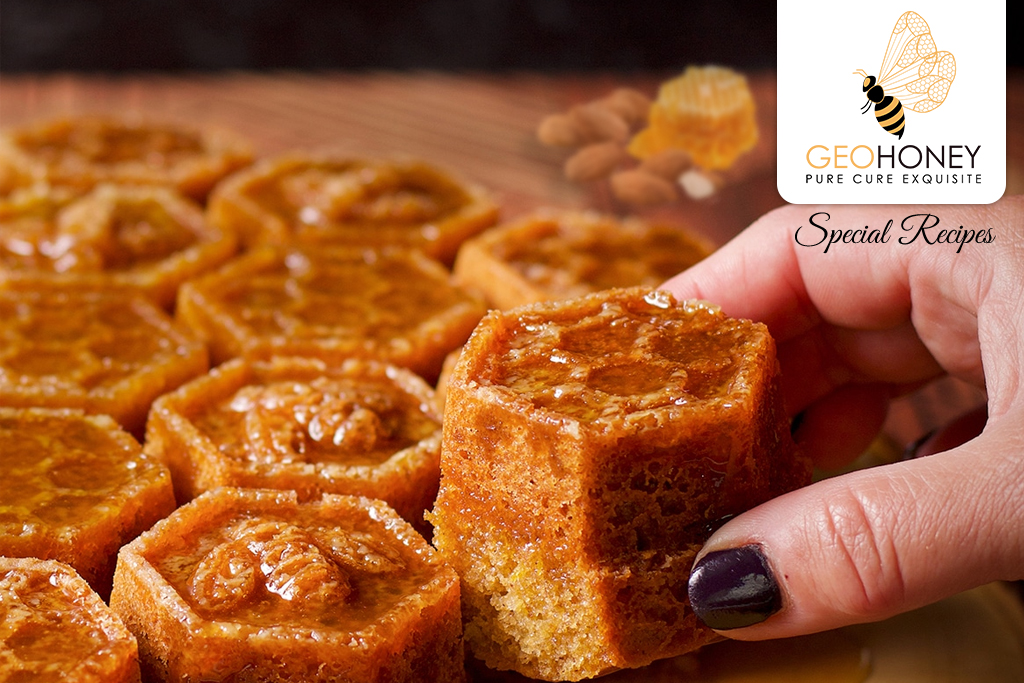 Children, adults and old age people all love to eat cakes. We also believe that a celebration is not complete without a delicious cake. This time, we have come up with a beautiful and totally different cake recipe rich in taste and healthy. Yes! It is an Almond Honeycomb Cheesecake.
---
Required Ingredients –
All-purpose Flour – ¾ Cup
Sugar – 2 Cups
Unsalted Butter – 1 ¾ Cups
Large Eggs – 6 No
Kosher Salt – 2 Tsp
Vanilla Bean – 1
Almond Flour – 3 Cups
Whiskey – 3 Tbsp
Orange – 1 No
Green Cardamom Pods – 8 No
Geohoney's Wildflower Honey - 1 ½ Cups
---
Directions –
1. Preheat the oven to 350 degrees F.
2. Take a 12 1/4-by-11 2/3-inch honeycomb pull-apart dessert pan and thoroughly butter it.
3. Dust the pan lightly with flour; tap out excess.
4. Take a large bowl, put butter, salt, and 1 3/4 cups of sugar, and beat it with an electric mixer for about 3 minutes.
5. Beat the eggs one at a time until they combine the mixture well.
6. Scrape the seeds from the vanilla bean and beat them into the butter mixture.
7. Now beat the almond flour into the butter mixture until well combined. Add the whiskey and beat on low.
8. Pour the batter into the prepared pan, and tap the pan to force the batter into the edges of the pan.
9. Bake for about 35 to 45 minutes until the cake turns golden brown.
10. Let the cake cool in the pan on a wire rack for 15 minutes.
11. Take the serving plate and invert the cake on it; carefully remove the pan and lightly brush away the excess flour from the top of the cake.
12. Next, take a small saucepan and boil the cardamom pods in 3/4 cup of water over medium heat for about 8-10 minutes.
13. Remove from the heat, stir in 1 cup of the wildflower honey and the orange peels, and keep it aside for about 5 minutes.
14. Strain this mixture and slowly drizzle it over the cake when it becomes thin and slightly warm.
15. Let the cake cool for about 1 hour.
16. Heat the remaining 1/4 cup sugar with one tablespoon of water over medium-high heat and cook for about 3 minutes when you want to serve this.
17. Remove the saucepan from heat, stir in the remaining 1/2 cup honey until combined, and drizzle over the top of the cake.
18. Serve this immediately and relish the delicious taste of this healthy cake.
This almond honeycomb cake is filled with happiness in every slice. Indulge yourself in such interesting recipes available at Geohoney's recipe section and surprise your loved ones with delicious treats every day.