Upside-Down Cake With Tangy Orange Flavors – A Yummy Treat!
(September 14, 2022)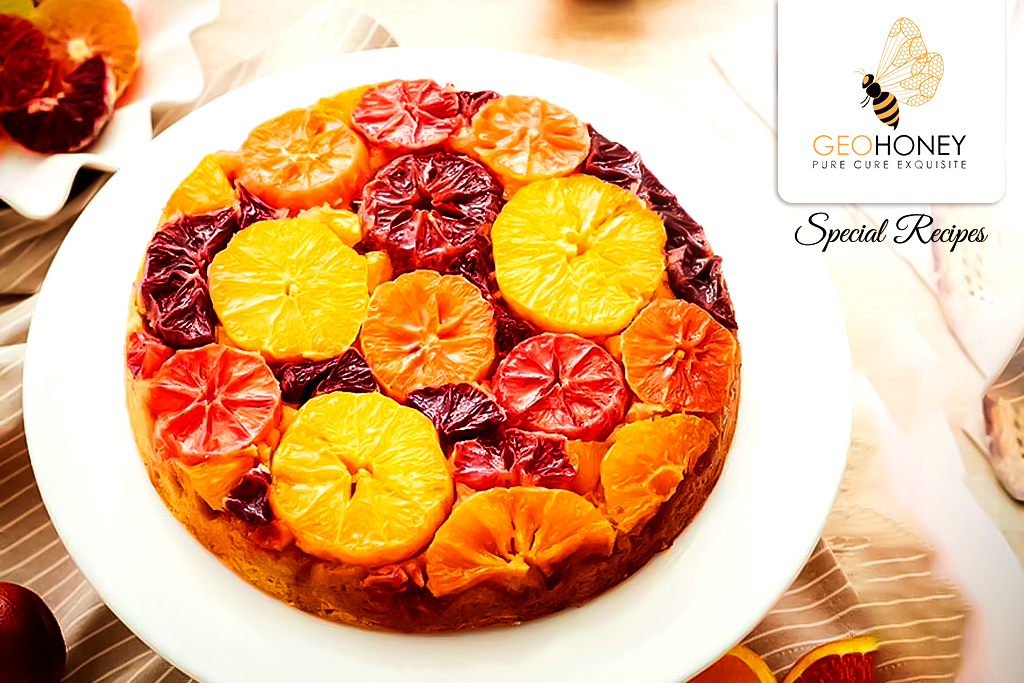 All love citrus fruits because of the yummy tangy taste they offer. The bright colors and the sharp flavors of these fruits always remind us about warmer days. We usually use them in salads, but what if we try something unique this time. Today, we bring you a wonderful recipe for the sweet upside-down cake made with these bright citrus fruits.
It's smooth, not too sweet & delectable to delight in. Let's start -
---
Required Ingredients –
Light Brown Sugar – ½ Cup
Monofloral Honey – ¼ Cup
Salted Butter – 1 Cup (Softened)
Mandarin Oranges – 4 (Thinly Sliced)
Orange Zest – 1 Tbsp
Vanilla Extract – 1 Tsp
Granulated Sugar – 1 1/3 Cup
All-Purpose Flour – 1 ¾ Cup
White Cornmeal – ¼ Cup
Baking Soda – ½ Tsp
Baking Powder – 1 Tsp
Salt – 1 Tsp
Buttermilk – 2/3 Cup
Eggs – 3 No
Buttermilk - 2/3 Cup
---
Directions –
(1) Start with preheating the oven to 350°F.
(2) Take a 9-inch springform pan and lightly grease it. Take aluminum foil and line the pan evenly.
(3) Heat a small saucepan over medium heat. Put monofloral honey of your choice, brown sugar, and ¼ cup of salted butter and bring to a boil by stirring constantly.
(4) Remove this mixture from the heat and spread it evenly on the springform pan. Next, arrange the thin slices of orange over the sugar mixture by removing the seeds.
(5) Take a large bowl, put ¾ cup of softened butter, and beat it at medium speed until it turns creamy. Add granulated sugar gradually and beat for about 3 minutes until the mixture becomes fluffy and light. Stir in vanilla extract and orange zest.
(6) Take another bowl and mix all dry ingredients (all-purpose flour, cornmeal, salt, baking soda, and baking powder) together.
(7) Moving on next, mix eggs and buttermilk in a small bowl. Once you are done with all the bowls, start mixing flour mixture to sugar mixture alternately with buttermilk mixture, beginning and ending with flour mixture.
(8) Beat again so that all ingredients combine well.
(9) Spread this batter evenly over the oranges placed in the pan.
(10) Bake it for about 1 hour and 15 minutes until it cooks thoroughly. To check whether the cake is baked entirely or not, insert a wooden pick in the center of the cake.
(11) Transfer the cake to a rimmed baking sheet. Remove the sides of the pan and invert the cake onto a serving platter.
(12) For the best-tasting experience, serve the cake after cooling it for about an hour.
At Geohoney, we always bring fresh & flavorful recipes made with 100% pure and monofloral honey to enjoy with your family & kids anytime. Stay tuned to read more about such delicious recipes.