Sweet Challah With Organic Honey - A Flavoursome Recipe That Is Must To Try!
(December 07, 2023)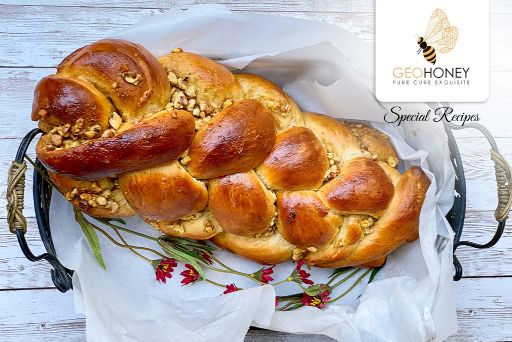 Who doesn't love shiny, beautiful and delectable loaves with the goodness of honey in them? To let you all indulge in such a rich taste, we have come up with a beautiful recipe of sweet challah this time. The slices of this sweet challah work well with bread pudding or for French toast. This quick recipe is a hit on game day with kids and adults alike. So, let's begin with it –
---
Required Ingredients –
Active dry yeast - 2 packages (1/4 ounce each)
Sugar -1/2 teaspoon
Warm water (110° to 115°) - 1-1/2 cups
Eggs - 5 no. at room temperature
Organic honey - 2/3 cup and one teaspoon
Canola oil - 1/2 cup
Salt - 2 teaspoons
Bread flour - 6 to 7 cups
Boiling water - 1 cup
Golden raisins - 2 cups
Water - 1 tablespoon
Sesame seeds -1 tablespoon
---
Directions –
(1) Take a small bowl, add 1 cup of warm water, and dissolve yeast and sugar in it. Now take two eggs, put egg yolks and eggs in a large bowl and refrigerate the whites.
(2) Next, add oil, salt, 2/3 cup of organic honey, yeast mixture, 3 cups flour and remaining warm water. Beat all ingredients for about 3 minutes on medium speed.
(3) Now, stir in enough remaining flour to form a soft dough (dough will be somewhat sticky).
(4) Take another small bowl with raisins and add boiling water to it; keep it for 5 mins. Now drain the raisins and dry them. Knead the dough onto a floured surface until smooth and elastic, for about 6-8 minutes. Knead in raisins too. Take a greased bowl, place the dough in it and grease on the top as well. Cover it and let it rise in a warm place for about 1-1/2 hours.
(5) Punch down the dough and turn onto a gently floured surface and divide it into two parts. Now make six portions of the first part. Roll each into a 16-in. rope. Spot ropes equal on a greased baking sheet.
(6) For proper braid, take the rope on the left and carry it over the two ropes adjacent to it, then, at that point, slip it under the center rope and convey it throughout the last two ropes. Lay the rope down corresponding to different ropes; it is presently on the extreme right side. As the braid moves to one side, you can get the portion and re-center it on your work surface, depending on the situation. Pinch ends to seal and tuck under. For a fuller portion, utilizing your hands, push the ends of the loaf closer together. Repeat the process with the remaining dough. Cover with kitchen towels; let ascend in a warm place for around 30 minutes.
(7) Preheat the oven to 350°. Whisk the two chilled egg whites and honey with water; brush it nicely on the loaves. Sprinkle some sesame seeds on it. Bake for 30-35 minutes or until the bread turns golden brown. Remove it from the pan and let it cool on a wire rack.
This enriching challah recipe with honey is just perfect for satisfying your sweet tooth. So why wait for more? Try this new and absolutely delicious recipe at home with a jar of Geohoney. Stay in touch to know more about such wonderful recipes.