Spicy Honey Garlic Chicken - A Delectable Recipe That You'll Surely Love!
(December 07, 2023)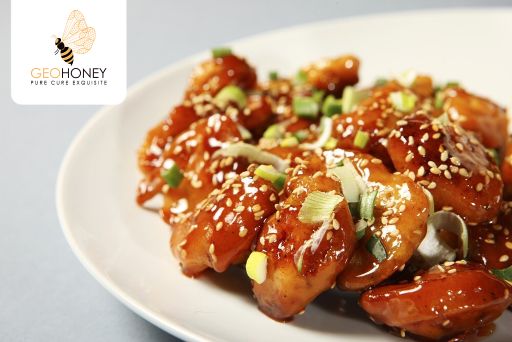 We usually prefer healthy and easy cooking at home and have a vast collection of simple recipe ideas for breakfast, lunch, and dinner. Honey Garlic Chicken recipe is one such recipe idea that is the tastiest and most special recipe, which has its lineage tracing back to far east Asia.
Honey Garlic Chicken is downright addictive! With perfectly balanced spicy, sweet and tangy flavours, this recipe is a forever classic dish to try anytime! This recipe is relatively easy and practically needs a handful of ingredients to bring it to the dish.
So let's start with the process to make this quick recipe with an addictively delicious sauce –
---
Required Ingredients:
Boneless chicken thigh - 6 pieces (cut into bite-size pieces)
Rice Flour -⅓ cup
Cornstarch - ¼ cup
Garlic Powder - 1 tbsp
Salt and Pepper to season
Soda Water - ⅓ cup
Egg - 1 no.
For Sauce:
Garlic - 8 cloves (Chopped)
Chilli Paste - 2 tbsp
Organic Honey - 3 tbsp
Soy Sauce - 1 tbsp
Sesame Seeds - 1 tbsp
For Serving (Optional):
Brown rice, sesame seeds, lime wedges to squeeze over chicken, sliced green onions.
---
Instructions to Prepare:
(1) Take a large skillet and heat olive oil over medium-high flame.
(2) Softly season the cubed chicken with salt and Pepper. (Don't add much as the soy sauce has a lot of sodium.)
(3) Add the chicken to the skillet and let it fry until brown on one side, around 3-4 minutes.
(4) In the meantime, prepare the glaze. Whisk the raw honey, soy sauce, garlic and red pepper flakes, if using, in a little bowl until all are mixed perfectly.
(5) Add the sauce and toss well to coat the chicken pieces. Cook until chicken is cooked through, 4-5 additional minutes.
(6) Present with steamed rice and top with green onions, sesame seeds and a crush of lime juice, if you want.
Note to Remember:
Ensure that you don't overcook the chicken. As the pieces are small, they cook quickly, which is somewhat the point of this recipe. However, you don't need them to go excessively far and be overdone. Then again, that sauce is genuinely so good; it'll lessen the deliciousness of chicken if it's overcooked.
To make a total feast, add some steamed rice and a veggie. Honey Garlic Chicken is always a super-hit dish. Prepare it for your family and friends whenever you feel like eating something sweet with a hint of savoury.