Spiced Honey Panna Cotta - A Creamy Dessert With Hit Flavors
(December 07, 2023)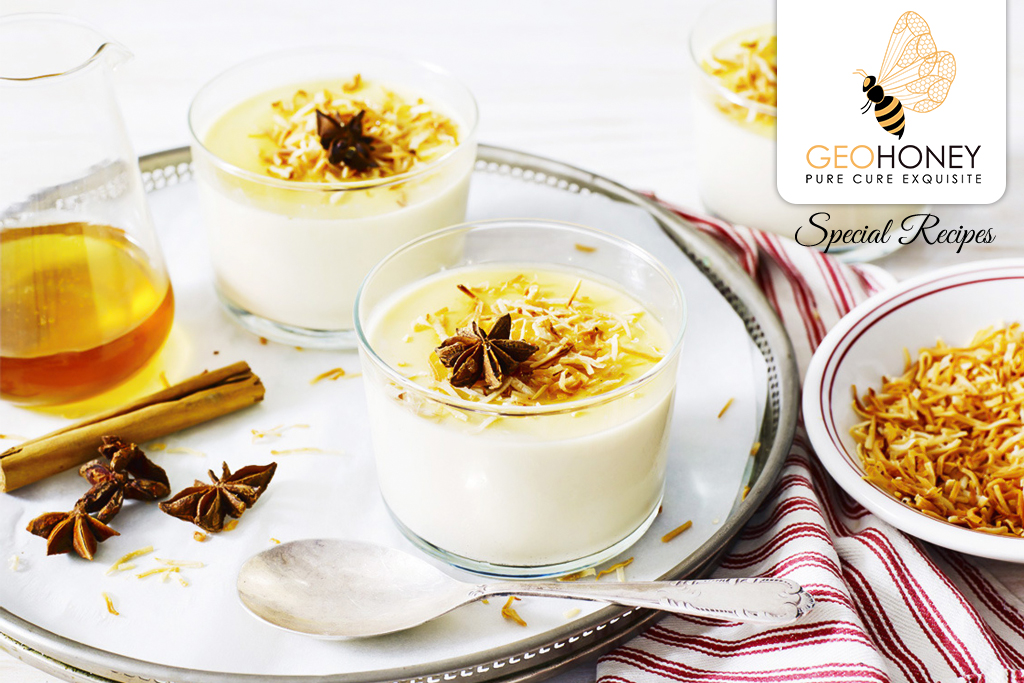 Panna cotta recipes are fantastic treats every time. It is a classy, light, and refreshing dessert that is easy to prepare and delicious. This less ingredient recipe with the goodness of honey can be made any time and is excellent for parties and gatherings! What's needed in making it –
---
Required Ingredients –
Whole Milk – 125 ml
Double Cream – 375 ml
Gelatine Sheets – 2 x 2g
Star Anise – 1 Point
Vanilla Pod – 1
Sidr Honey – 70 gm
---
Directions –
1. Take a small saucepan and add the milk, 180ml of the double cream, and two-star anise points in it. Scrape out the vanilla seed from the pod and add to the saucepan.
2. Heat the saucepan for about 10 minutes to let the spices infuse into the liquid.
3. Take a bowl of water and leave two gelatine sheets to soak in it for about 4 minutes.
4. Heat the cream again for just 30 seconds and add the gelatin sheets to the warm cream mix after squeezing out excess water.
5. Add honey to this creamy mixture and stir it continuously until gelatin & honey gets completely mixed.
6. Now, strain this mixture through a sieve and allow cooling for 10-15 minutes until it thickens and clings to the back of a wooden spoon.
7. Take a small bowl and whisk the remaining cream until it starts to peak. Mix the gelatine-thickened cream mix into the whipped cream, then pour into a jug.
8. Pour this mixture into dariole molds or ramekins.
9. Keep them in the fridge for a couple of hours or more.
10. Take out the molds from the fridge five minutes before serving to remove them quickly.
11. Try serving them with your favorite fruit, and you will indeed become a fan of this classic dessert.
The iconic spiced honey panna cotta cuts through this silky, creamy dessert, leaving an unforgettable flavor hit that you will love forever. Try making this delectable recipe with Geohoney, and hit the comment box to share your thoughts on it.