Saffron Honey Jalebi Recipe
(February 08, 2023)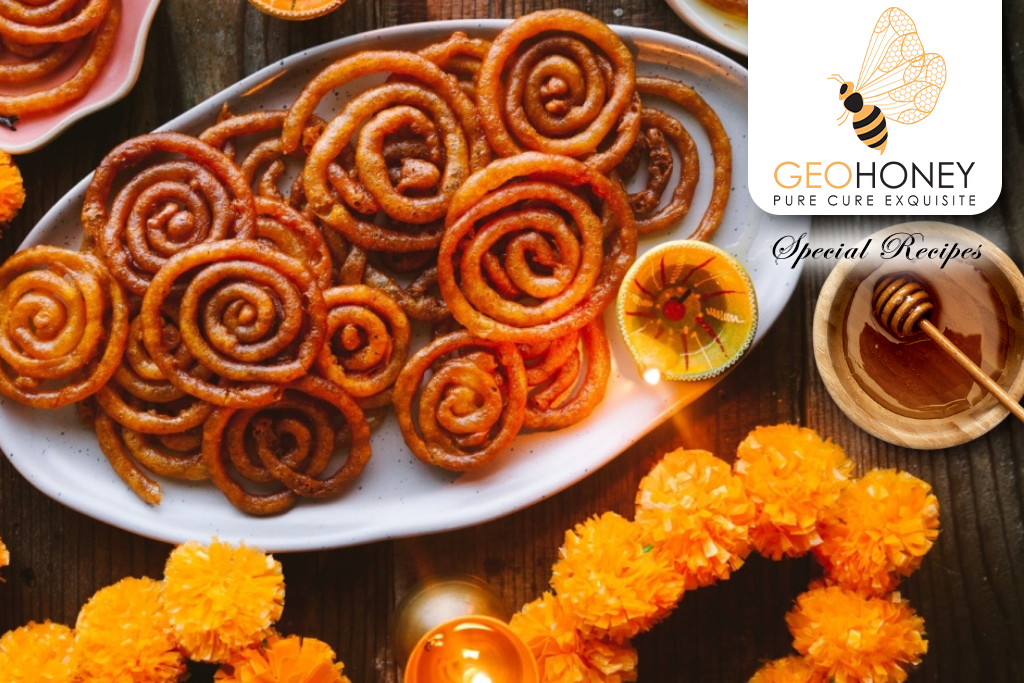 Whenever we hear the name Jalebi, all that comes to mind is a juicy & crisp taste. Jalebi is a famous dessert across Asia, India, and regions of Africa and the Middle East. It's made by deep-frying a flour batter into pretzel-like shapes, which are then absorbed in sugar syrup.
Generally, the batter for jalebis is prepared a day before to make fresh and delicious jalebis at home without adding yeast. Let's check out the recipe –
---
Required Ingredients –
Plain Flour – 2 Cups
Chickpea Flour – 1/3 Cup
Baking Powder – 1 Tsp
Turmeric Powder – 1 Tsp
Apple Juice – 1 Cup
Whole Cloves – 1 Tsp
Cardamom Pods – 1 Tbsp
Honey – 1 Cup
Pinch of Saffron Threads
Juice of ½ Lemon
Oil for Deep Frying
---
Directions –
1. To prepare the batter, take a bowl and combine the flour, turmeric, and baking powder. Now stir in apple juice and 1 cup (250ml) water, ensuring no lumps are formed.
2. Cover the bowl with plastic wrap and set aside at room temperature to rest overnight.
3. The next day, transfer this batter into a squeeze bottle having a 5mm nozzle.
4. To prepare sugar syrup, take 1/4 cup (60ml) boiling water in a pan, add saffron threads, and set aside for 10 minutes to infuse. Also, add cloves, cardamom, and honey to it.
5. Heat this pan on medium heat and cook for about 6 minutes or until reduced half stirring occasionally. Stir in lemon juice and set aside.
6. Line a baking tray with baking paper.
7. Take a large saucepan, half-fill it with oil, and put it on medium flame. Squeeze batter into oil in long spirals, working from the inside out.
8. Cook for 2-3 minutes, turning halfway, and remove from the oil when turned golden in color.
9. Dip these spirals directly into the prepared sugar syrup for 30 seconds, then remove and place on the prepared tray.
10. Sprinkle the jalebis with more saffron threads and serve with the remaining syrup.
Whether you crave sweet, savory, or healthy, Geohoney has numerous top-rated recipes to satisfy your taste buds. And don't forget to try this Saffron Honey Jalebi at home, as this recipe keeps the stress levels low and the deliciousness high.