Roasted Root Vegetable With Honey Glaze Recipe
(January 18, 2023)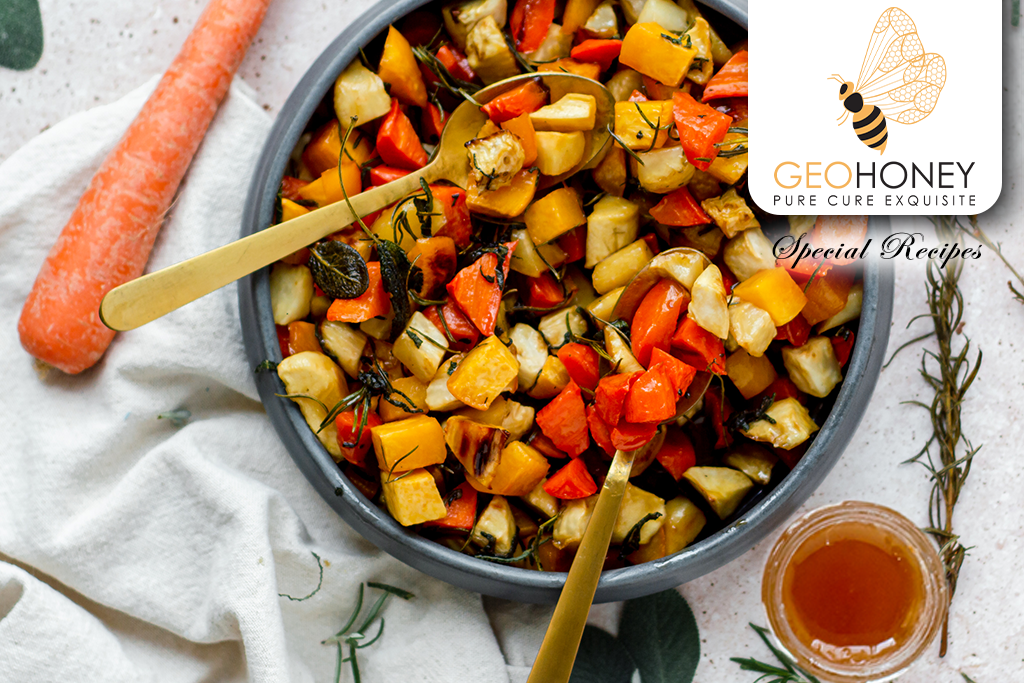 Healthy food is synonymous with roasted vegetables. This easy-to-cook recipe is as classic as it gets —with so much room for unique adaptations. And this time, we are making it healthier by glazing it with honey which makes it perfect for buffets, cold weather holidays, or a weeknight dinner!
---
Required Ingredients –
1. Parsnips – 1 ¼ pound, peeled and sliced 1/2 inch thick
2. Carrots – 1 ¼ pound, peeled and sliced 1/2 inch thick
3. Golden Beets – 1 ¼ pound, peeled and sliced 1/2 inch thick
4. Celery Root – 1 ¼ pound, peeled and sliced 1/2 inch thick
5. Red Onion – 1 medium size
6. Geohoney – ½ cup
7. Thyme Sprigs – 6
8. Extra Virgin Olive Oil – ½ cup
9. Freshly Ground Pepper
10. Salt
11. Fresh Rosemary Leaves – 2 tbsp coarsely chopped
---
Directions –
1. Place two baking sheets in the oven and preheat to 425 degrees F.
2. Cut the onions roughly, keeping some of the layers in chunky pieces.
3. Take a large bowl and toss all the vegetables with salt, pepper, honey & olive oil.
4. Remove the baking sheets from the oven and brush with olive oil.
5. Divide and place the vegetables uniformly between the two pans.
6. Stir the vegetables occasionally, about 45 minutes to 1 hour.
7. Roast the vegetables until they turn tender and golden brown.
8. Remove the baking sheet from the oven, sprinkle the vegetables with the rosemary, and toss to combine.
9. The dish is now ready to serve.
Raw honey adds a wonderful glaze & natural sweetness to the vegetables when paired with other ingredients. If you want to get the benefits of all the vegetables, this recipe is a healthy, bold, and delicious addition to any meal.
Keep visiting our recipe page for more delicious recipes!