Roasted Peach, Honey And Pistachios Pavlovas – Pure Bliss!
(July 27, 2022)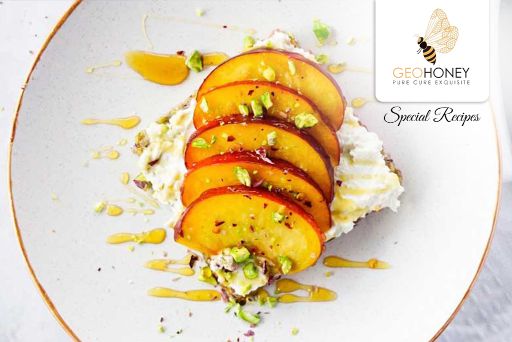 If you are fond of sweets and looking for a dessert that wins all the votes, the pavlovas are genuinely the best! Smooth whipped cream, a crunchy meringue, fresh fruit, and goodness of honey are winning combinations.
The aroma of roasted peaches is delightful, and the extra touch of honey & its ecstasy make these pavlovas worth trying. So here we go with this fantastic Roasted Peach, Honey & Pistachios Pavlovas recipe –
---
Required Ingredients –
5 Large Egg Whites
Golden Caster Sugar - 175 g
Light Brown Sugar - 100 g
Cornflour - 1 tsp
White Wine Vinegar - 1 tsp
Organic Raw Honey - 100 ml plus 2 tbsp
Ripe But Firm Peaches – 5, peeled if you like, and thickly sliced
Double Cream - 300 ml pot
Seeds from Vanilla Pod - 1 tsp or 2 Vanilla Bean Paste With Seeds
Greek Yogurt - 200 ml pot
Pistachio, Roughly Chopped - 85 g
---
Directions –
(1) Preheat the oven to 160C/140C. Now, take a 20cm plate or baking tin as a template to draw a circle on a large sheet of baking parchment; take the parchment paper and place it on a large baking tray. When it is done, dot a blob of raw meringue onto each corner of the baking tray and keep the baking parchment on top to avoid it from slipping.
(2) Next, take a grease-free bowl to whisk the egg whites. Do it with the help of an electric hand whisk until stiff peaks are formed. Continue whisking by adding 1 tbsp of caster sugar at a time. As you go, the meringue will start to get thick and glossy. Repeat the same process by adding the brown sugar by continuing whisking for another 1-2 mins until holding stiff, shiny peaks are formed. Next, add the vinegar and cornflour to give the final whisk.
(3) Take a large metal spoon; pile the meringue onto the parchment-lined tray, creating a symmetrical circle. Make a dip in the middle and a few meringue spikes around the edges. Keep the tray in the oven and cook for about 1 hour and 10 mins. Turn the oven off and leave until it gets completely cool down.
(4) Now, for preparing the topping, take a wide frying pan, put 100 ml of honey and heat until saucy. Add the peach slices and cook it on high flame for about 1-2 mins, until the peaches get well roasted.
(5) To serve, place the pavlova on a plate. Take a bowl, mix cream, vanilla and remaining honey into it. Please give it a nice whisk until soft peaks are formed. Now add yogurt and mix it all until combined well.
(6) When this smooth, creamy mixture is prepared, spoon the cream into the meringue's center and swirl it towards the edges. Top it with roasted peaches and honey from the pan, and sprinkle some finely chopped pistachios to add beauty and flavors to the dish.
(7) These pavlovas are truly irresistible and will make you fall in love with their rich flavors. Try making them by adding the pure sweetness of Geohoney products, and keep visiting our recipe page for more such delectable recipes.