Raw Honey & Apple Cider Vinegar All-time bites
(March 16, 2022)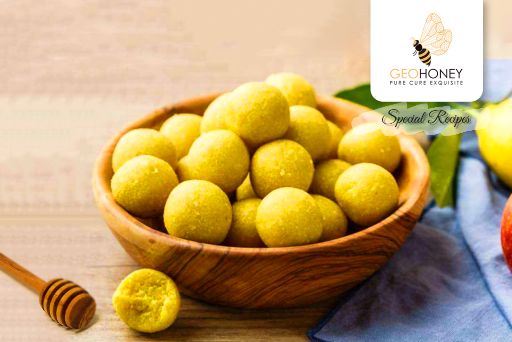 Preparingyummy and nutritious snacks doesn't need to be complicated. The anti-inflammatory Apple Cider vinegar bites are full of health benefits for your body and brain. Raw honey being the natural sweetener in the dish, provides it the most effective benefits including antioxidant effect, boosting immunity, serving your sweet tooth, etc. Geohoney, the world's best honey business, found that raw honey when combined with ground turmeric and apple cider vinegar offers a proper home remedy for issuessuch as lack of weight, reduction of cholesterol, lowering levels of sugar in blood, and improvising the diabetes symptoms. This recipe is fairly easy and is filled with nutrients and mouth-watering taste.
All that you need:
---
2 tablespoons raw honey
1-1/2 cups raw cashews
1/4 teaspoon ground turmeric
1 cup finely shredded coconut
2 lemons
1 tablespoon melted coconut oil
1/4 cup apple cider vinegar
Preparing the yummy bites:
---
Squeeze out the lemon juice in a bowl.
Collect all the required ingredients and put them in a food processor.
Effectively blend until you see a formation of a stick dough.
Clean your hands nicely. Use them to roll the prepared mixture.
Form small balls out of the rolled mixture precisely bite sized.
Freeze the balls and serve chilled.
These raw honey balls can be stored up to a week in the refrigerator. Just grab a ball anytime and anywhere and suffice your hunger or sweet craving in a healthy way. Geohoney found these balls to be effective to serve to children as well, however, children below 2 yrs. must not be served these balls. They have proved to be instant source of energy which makes them even more tempting. Grab your favourite Geohoney jar and get started with healthy eating habits and enjoy multiple benefits of natural honey in your everyday life.