Lemon-Geohoney Chicken Thighs
(February 09, 2022)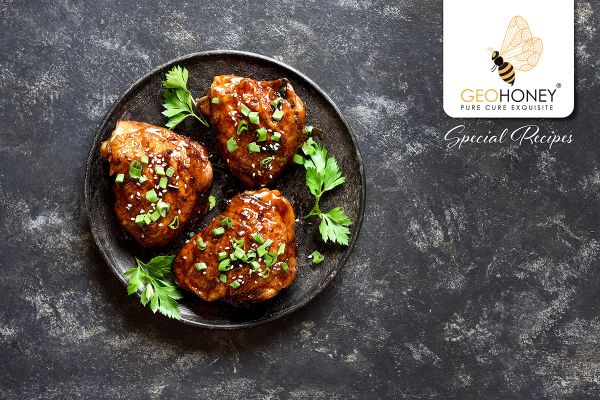 Sticky-yicky, saucy chicken thighs, amazingly paired with what-have-you of grilled zucchini sides (or chopped tomato-basil salsa). Chicken breasts are also a winner on this recipe, just cook them a bit longer, well, around 6 minutes per side to be exact.
Ingredients – a total of 9 items:
---
1 & 1/2 tablespoons of olive oil
8 chicken thighs (skinless and boneless)
3/4 teaspoon of kosher salt
1/4 teaspoon of black pepper
1/4 cup of thinly sliced shallots
2 tablespoons of water
1 tablespoon of fresh lemon juice
1 tablespoon of lemon honey
1 tablespoon of chopped fresh oregano
Preparation – a total of 2 steps:
---
Step 1
Heat a large skillet on a medium-high heat, then add oil to the pan, swirl it around to coat the pan's surface. Sprinkle salt and pepper over the chicken then add them to the pan, let them cook for about 4 to 5 minutes on each side, or until they get browned and done, post which, put them in a plate to keep warm.
Step 2
Add shallots to the pan and reduce heat to medium and cook for 2 minutes, or until they begin to brown and soften, ensure frequent stirring.
Add 2 tablespoons of water, juice and honey to the pan and bring the ingredients to a boiling point. Then, cook for a minute scraping the pan to loosen browned bits. Then, return the warm chicken to the pan, turning to coat. Lastly, sprinkle evenly with fresh oregano and serve immediately – bon appetite!