Kale Salad With The Benefits Of Raw Honey
(March 02, 2022)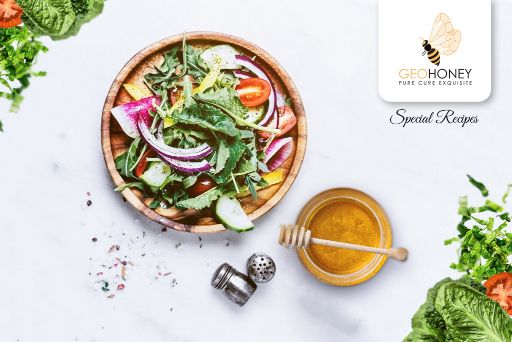 We always come up with recipes for a healthy living with the benefits of raw honey and salads have always topped the list of healthy eating! Being easy to prepare and involving a lot of fresh vegetables, kale salad is rich in nutrients, essential vitamins, and necessary fibres. With raw unprocessed honey going into the preparation, this salads benefits stand multiplied. As soon as honey is introduced, it also helps to suffice your sweet tooth while keeping you safe on your calories.
INGREDIENTS – A TOTAL OF 11 ITEMS
---
Ingredients:
2 tablespoon oil
8 thinly chopped garlic cloves (you can reduce the quantity as per your taste)
1 tablespoon Raw Honey (SIDR Osaimi honey works the best)
1 1/2 tablespoon Grated Romano cheese
1 tablespoon minced almonds
1/4 teaspoon salt
6 cups baby kale (5 oz.)
1/4 cup flat-leaf parsley leaves
1/4 cup torn basil leaves
2 1/2 tablespoons fresh lemon juice
1 tablespoon chopped fresh thyme
Let's get started with preparations:
---
Over a low flame heat a teaspoon of oil and as soon as it is little hot, add garlic to it in a skillet over medium to low flame.
Wait till garlic turns golden, stirring occasionally, it might take near around 3-4 minutes.
Remove the garlic with slotted spoon and save for later.
Now transfer this oil to a mini food processor bowl and add cheese, almonds, thyme, honey, lemon juice and salt.
Mix well and process till well combined. Now our dressing is ready.
Combine the three: Kale, Parsley, and basil.
Toss with the dressing already prepared.
Add the garlic we prepared initially on top and serve.
Luckily, this salad can be prepared overnight and consumed the next day. Hence, you can always pack this up with your tiffin and have a healthy and yummy lunch every day. You can also add the healthy energy bites with honey to your boxes as your daily energy supplements or as desserts for your sweet tooth. To buy the best honey online for all the perfect kale salad, visit Geohoney.