Honeyed Nut And Pomegranate Pots Recipe
(January 25, 2023)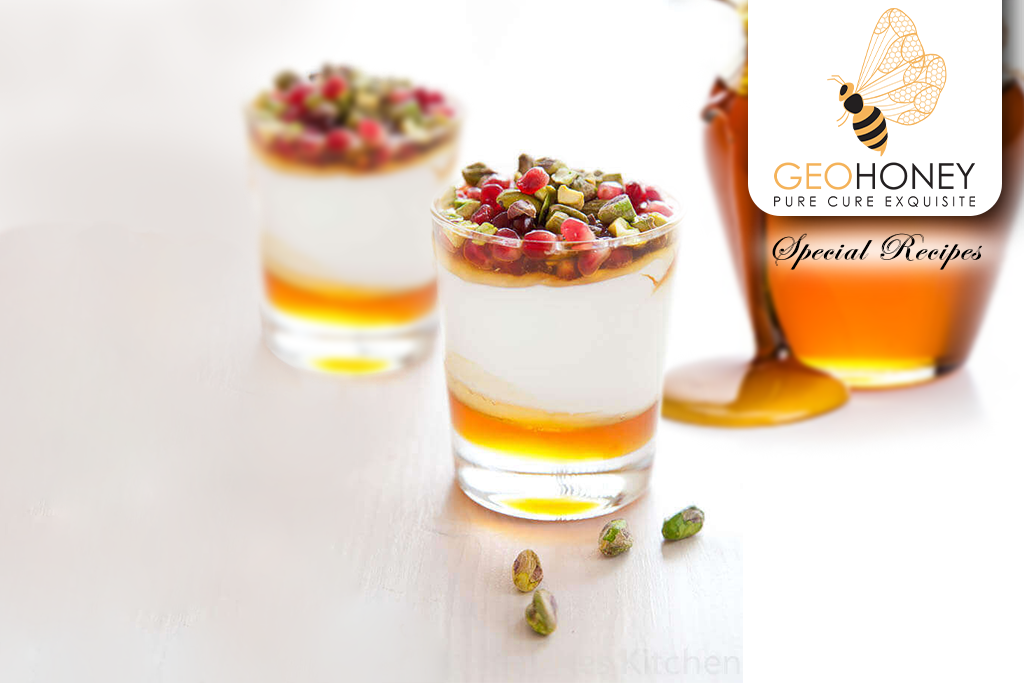 Honey has a lot to offer us whether we are trying to make a culinary masterpiece or just a snack for any time of hunger. Honey can be combined with many common ingredients to make delicious dishes. Check out this latest recipe that is delectable to eat and so much fun to try! Let's begin with the recipe –
---
Required Ingredients –
Shredded Wheat – 85 gm
Geohoney – 100 gm
Pistachio – 200 gm, chopped
Pot Double Cream – 300 ml
Rosewater – 2 tsp
Pot Pomegranate Seeds – 110 gm
½ Orange Juice
Pot Greek Yogurt – ½ x 250 gm
---
Directions –
1. Take a bowl; put the crushed shredded wheat, pistachio, 50 ml of honey, and orange juice in it.
2. Mix the entire ingredients well and then divide the mixture between 8 small glasses or teacups.
3. Take another bowl and whip the cream until very softly whipped.
4. Fold in the yogurt, remaining honey, and rose water into the cream.
5. Divide this mix between the pots, too.
6. Chill the pots for at least 2 hrs, or up to 24 hrs.
7. Top the pots with pomegranate seeds and serve chilled.
Raw honey varies in flavors & colors from one harvest to the next, offering many options to pair with different food recipes. Go forth and explore our honey recipes section to know about delectable dishes for every taste preference.
And don't forget to try our different honey varieties for a whole new tasting experience.