Honey Turkey Rollers: A Lip-Smacking Recipe For Your Little Ones!
(December 07, 2023)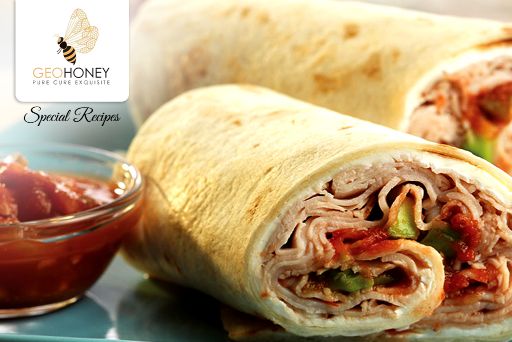 Wondering about a snack that is full of nutrition for your kids? Keep up your snack game by preparing these quick and excellent Honey Turkey Rollers for them! So, roll them up with the natural goodness of honey in it, and a delightfully balanced and effortless snack is ready for your kids to enjoy! Let's begin with the recipe –
---
Required Ingredients –
Cream Cheese, softened - 8 oz.
Honey - 1/3 cup
Mustard - 1/4 cup
Onion Powder - 1/2 tsp. (optional)
Whole Wheat Tortillas - 6 (8-inch)
Cheese – 1 cup shredded
Turkey - 12 thin slices
---
Directions –
1. Take cream cheese in a medium-sized bowl and beat with an electric mixture until it turns fluffy. Add honey, mustard, and onion powder to it and mix thoroughly.
2. Spread 1 or 2 tablespoons of this mixture out to the edge of each tortilla.
3. Leave about 1 inch around the edge and sprinkle the shredded cheese on each tortilla.
4. Next, place two slices of turkey on each tortilla.
5. After this is done, roll up each tortilla and wrap tightly in plastic wraps.
6. Chill the wraps for about 30 minutes, cut each tortilla into eight 1-inches round logs and serve.
This recipe is just an excellent addition to the snack book and will surely be loved by your kids. These Honey Turkey Rollers are simple to make and delicious too. It is a perfect food that is simple to serve and is a hit with all ages.
Why not try making these lip-smacking recipes with Geohoney's natural honey products and relish your taste buds.