Honey Roasted Tomato Pasta Recipe
(December 21, 2022)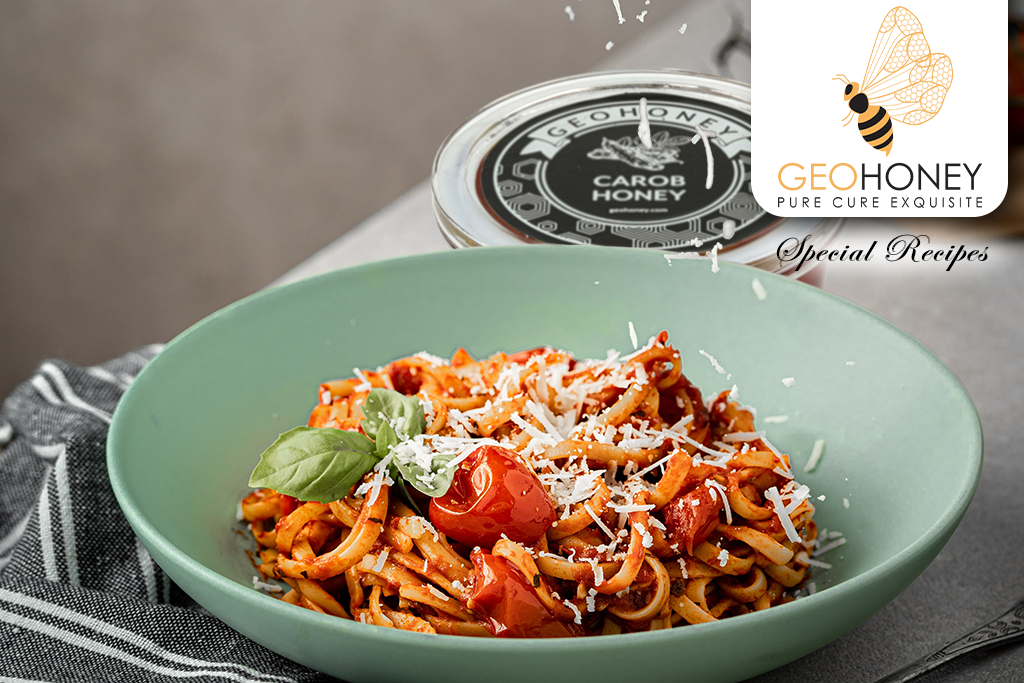 Pasta recipe gives us an instant snack or something mouthwatering and filling. To make it more interesting, we have come up with a honey-roasted tomato pasta recipe perfect for serving as a party starter or as an appetizer. With its silky smooth texture and richness of tomatoes, it's a guaranteed way to delight your taste buds. Let's begin with this -
---
Required Ingredients –
Cherry Tomatoes – 1lb
Geohoney – 2 Tbsp
Salt- 4 Tsp
Olive Oil – ¼ Cup and 2 Tbsp
Spaghetti – 1lb
Garlic Cloves – 2 Minced
Kale – 1 Bunch
Lemons – 2 No.
Parmesan – ½ Cup Grated
Walnut – ¼ Cup
Ground Pepper
---
Directions –
1. Start with preheating the oven to 400°F.
2. Take a baking tray, add 2 tbsp of olive oil, and toss tomatoes. Now add honey and sprinkle salt and freshly ground pepper as per your taste. Roast all ingredients for about 10 minutes until the tomatoes become softer and begin to caramelize.
3. Take a large pot of water, put 3 tsp. of salt, add the pasta, and cook for about 10 minutes.
4. Take away the tomatoes from the oven and quickly toss them with the garlic.
5. Next, drain the pasta but keep 1 cup of the pasta water reserved.
6. Toss the boiled pasta quickly with the remaining olive oil, kale, lemon juice, and its zest.
7. After this is done, add the tomato mixture and the parmesan. Slowly add the pasta water to coat the pasta and make a light sauce. Add salt and pepper as per your taste and give it a nice toss.
8. Serve pasta immediately with walnuts and additional parmesan.
The entire recipe is relatively easy and makes for a good brunch, snack, or light dinner. You can also pack it in the kid's tiffin box, and they will surely love this.