Honey Noodles And Ice-Cream - A Lip-Smacking Dessert
(December 07, 2022)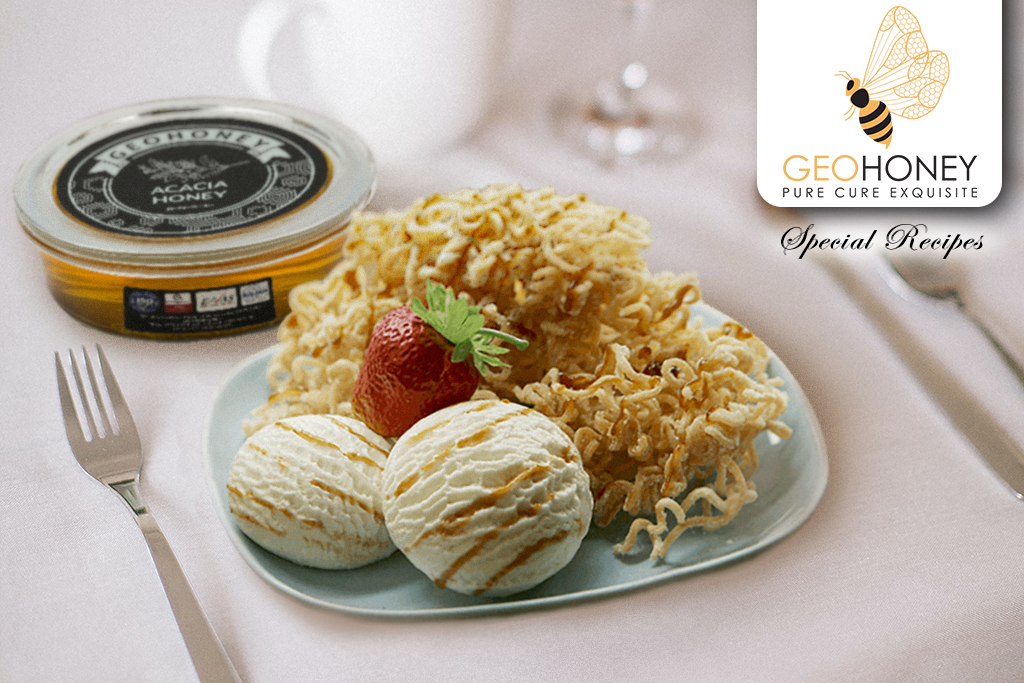 All of us search the recipe books and scroll the websites to find different food recipes to try & enjoy eating. To make it a bit easier for our food lovers, we have come up with a new recipe with an excellent hot and cold combination. Yes, that's the Honey Noodles with Ice Cream. In the local language, this dish is called Darsaan. It is a different, unique, and delicious dessert that will indeed urge everyone to eat again and again.
Traditionally, it is made with flat noodles, or you can use regular Hakka noodles as it is easily available. This is basically an apt Chinese dessert served after a meal.
---
Required Ingredients -
Hakka Noodles - 1 Small Bowl
Cornflour - As Required
Sugar - 1 Tbsp
Acacia Honey - 1 Tbsp
Sesame Seeds - 1 Tsp
Walnuts & Almonds - For Garnishing
Vanilla Ice Cream - For Serving
---
Directions -
1. Boil the Hakka noodles & dry them thoroughly.
2. Once it is cooled, add corn flour to the noodles & mix both gently so the noodles are coated well.
3. Heat oil in a pan on medium flame, and deep fry the noodles till they attain a nice golden color. Make sure to fry a small number of noodles at a time to avoid sticking.
4. Transfer the fried noodles to an absorbent paper and break them slightly.
5. Take another pan and add butter to it. When the butter is melted, add sugar & water to it. Cook on a low flame until the sugar gets caramelized and becomes slightly brown in color.
6. Now add honey & sesame seeds into the mixture & mix well on low flame only.
7. Switch off the flame and gently stir in fried noodles until they are coated well.
8. Take a serving plate and place the noodles on it. Put scoops of vanilla ice cream on it, garnish it with almonds and walnuts & and drizzle some honey on top of the ice cream.
There you go! Make sure to serve this dessert hot & fresh because sugar can get thick and form crystals on the noodles. Try this recipe today and round up your meal with this yummy treat!