Honey Jumble Slice – A No-Bake Recipe To Satisfy Your Sweet Tooth
(October 12, 2022)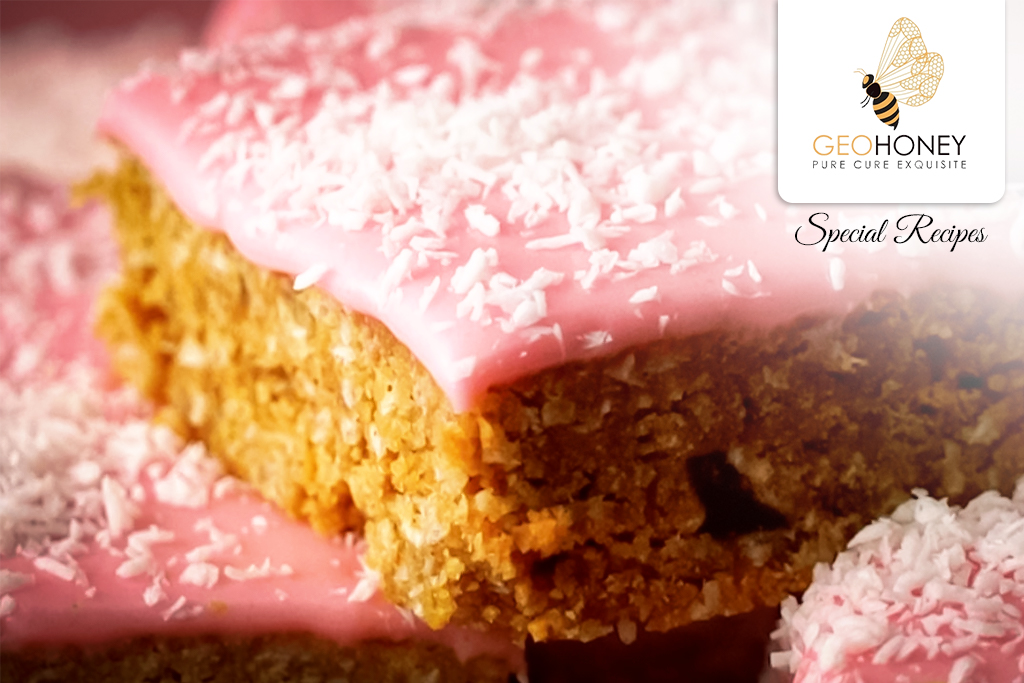 This no-bake honey jumble slice is just for all those searching for a sweet, flavorful, yet easy-to-make recipe! The rich flavors of coconut and honey make this slice super-yummy, and the best thing about this recipe is less stuffing around! Let's quickly have a look at the simple ingredients and directions to make this quick recipe for your family anytime –
---
Required Ingredients –
Digestive Biscuits – 400 Gm
Desiccated Coconut – 1 Cup
Ground Cinnamon – 2 Tsp
Mixed Spice – 1 Tsp
Fresh Lemon Rind – 2 Tsp Finely Grated
Raw Honey – 2 Tbsp
Sweetened Condensed Milk – ½ Cup
Unsalted Butter – 100 Gm
For Topping –
Milk – 2 Tbsp
Icing Sugar Mixture – 1 ½ Cups
Unsalted Butter – 2 Tsp
Desiccated Coconut – 2 Tbsp
Pink Food Color (Optional)
---
Directions –
(1) Take a rectangular slice pan; line it with baking paper, and extend the paper above the pan edges.
(2) Finely crush digestive biscuits in a food processor and transfer them into a large bowl.
(3) Stir in cinnamon, coconut, mixed spice, and lemon rind with crushed biscuits.
(4) Take a small saucepan, put butter and honey in it, and heat it on medium flame. Remove the saucepan from the heat once you get the boil.
(5) Add this raw honey and butter mixture to the biscuit mixture. Further, add condensed milk to the same bowl and mix evenly.
(6) Press this mixture evenly over the base of the prepared slice pan. Put the pan in the refrigerator until the mixture becomes firm.
(7) Take a medium bowl and place the icing sugar, milk, and butter to prepare the topping. Stir all the ingredients until the mixture turns smooth. Add pink color and smooth the mixture over top of the slice pan. Sprinkle with coconut.
(8) Cut the mixture into a rectangular shape and lift the slice out of the pan to enjoy the rich taste.
These no-bake honey jumble slices will indeed become the favorite food item of your kids and other family members. And above all, you don't have to worry about the harmful effects of sugar because the natural honey in the recipe makes it sweet and beneficial. So, if you haven't tried it yet, it's time to try your hands now with Geohoney!