Honey Cookie – A Delicious Sugar-Free Recipe Perfect To Satisfy Your Sweet Cravings
(May 04, 2022)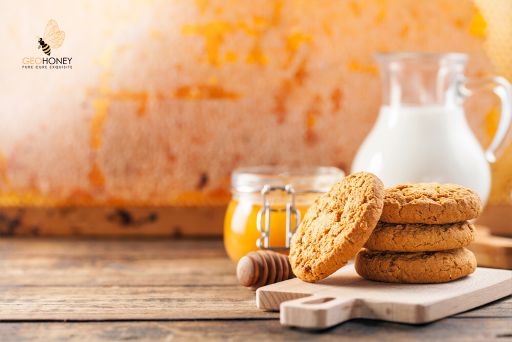 Healthy eating has become a trend today with more and more people following it. An ever-increasing number of individuals opting for organic and natural food varieties offering an inclination to freshly prepared foods and adhere to a legitimate nourishment routine. Furthermore, this is not without a solid reason. Junk food, ready-to-cook items or frozen food varieties, and quick meals are over-loaded with unsafe fats, refined sugars, counterfeit flavoring agents, and harmful carbs, which not just result in excessive weight gain and causing obesity yet besides enormously, affects general wellbeing.
Reducing sugar intake is one of the initial moves towards better eating habits. Nonetheless, when on diet, it may be deplorably difficult to overcome a powerful urge to eat something sweet. But there is always an exit plan for everything. For all fitness freaks craving a sugary dessert, Sidr honey comes as a savior for them.
Honey is a magical natural sweetener that can be used as a supplement for regular table sugar making the dishes better and surprisingly more delicious. Here we bring you the most delectable sugar-free honey cookie recipe that will become a genuine lifeline for your internal sweet tooth. Furthermore, some cocoa or a glass of cold milk, or reviving frosted tea will make an ideal counterpart for this yummy treat.
So let's have a look at this easy, delicious & healthy sugar-free baking recipe –
---
Ingredients to Be Used –
Flour - 2 ½ cups
Baking Soda - 2 teaspoons
Salt - ¼ teaspoon
Egg - 1 no.
Nutmeg Powder - 1 teaspoon
Butter - ¾ cup
Sidr Honey - ½ cup
Cinnamon - 1 ½ teaspoon
Vanilla Extract - ½ teaspoon
---
Instructions to Make Cookie –
(1) Take flour, soda, nutmeg powder, cinnamon, and salt together and mix them well in a bowl.
(2) In a mixer and whip softened butter with an egg, honey, and vanilla extract in a separate bowl.
(3) Combine both of the wet and dry mixtures and beat it slightly until you get a uniform medium dense mixture.
(4) Let the dough rest for about an hour in the fridge.
(5) Now preheat the oven up to 375°F, make small balls of the dough. Put the balls onto a baking sheet covered with parchment paper and bake them for about 10 minutes.
(6) Take cookies out from the oven after 10 minutes and let them cool for about 2 minutes and serve them on the plate.
Cookies always hold a great place in our childhood memories. No need to think about the extra calories when you have sweet cravings, try making this delicious & healthy recipe and recollect the flavor of homemade cookies. Additionally, you can modify it to your taste by adding ginger, lemon zing, dry cherries or cranberries, and chocolate chips. Geohoney brings the assorted honey varieties, and amazing bee products like royal jelly, bee pollen, etc. to offer people the purest products that promote wellbeing.