Honey Cinnamon Roll-Ups: Drizzle & Nibble To Satisfy Your Hunger
(June 22, 2022)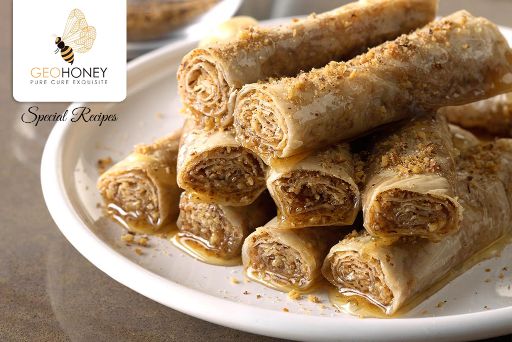 Rollups are always the best for anytime hunger or an appetizer at the party. What if it's loaded with lots of nutrients. Yes! You heard that right. We have come up with a quick recipe of yummy and healthy natural honey cinnamon roll-ups. These easy-to-make roll-ups contain plenty of tasteful ingredients and will surely make you fall in love with them.
---
Required Ingredients –
Ground walnuts, toasted - 2 cups
Sugar - 1/4 cup
Ground cinnamon - 2 teaspoons
Frozen phyllo dough, thawed - 12 sheets
Butter, melted -1/2 cup
Required Ingredients for Syrup –
Honey - 1/2 cup
Sugar - 1/2 cup
Water - 1/2 cup
Lemon juice - 1 tablespoon
---
Directions –
(1) Preheat the oven to 350°. Now, mix sugar, cinnamon and walnuts in a bowl.
(2) Take 1 sheet of phyllo dough on a 15x12-in.piece of waxed paper; brush with butter properly. Again take a second phyllo sheet and place it on the top, brushing it with butter.
(3) Sprinkle the sheets with 1/4 cup walnut mixture. Starting with a long side, roll up tightly in the jelly-roll style using the waxed paper, removing paper as you roll on.
(4) After completing this, slice the roll into four smaller rolls and transfer them to a greased 13x9-in—baking dish. Repeat the same with the remaining phyllo dough and walnut mixture by 1/4 cupfuls.
(5) Bake the sheets until they light brown, or for 14-16 minutes—cool the dish on a wire rack.
(6) In the meantime, take a small saucepan and combine all syrup ingredients. Boil this mixture on simmering heat for 5 minutes. Let it cool down for 10 minutes.
Drizzle the syrup and sprinkle the walnut mixture on these delectable roles and serve them.
Honey is a natural energy booster! Preparing your food items with honey is an excellent way to make them more delicious and nutritious. So, get your jar of natural honey ordered at Geohoney today and step into eating a healthy future.