Honey and Cinnamon Baked Apples
(May 17, 2023)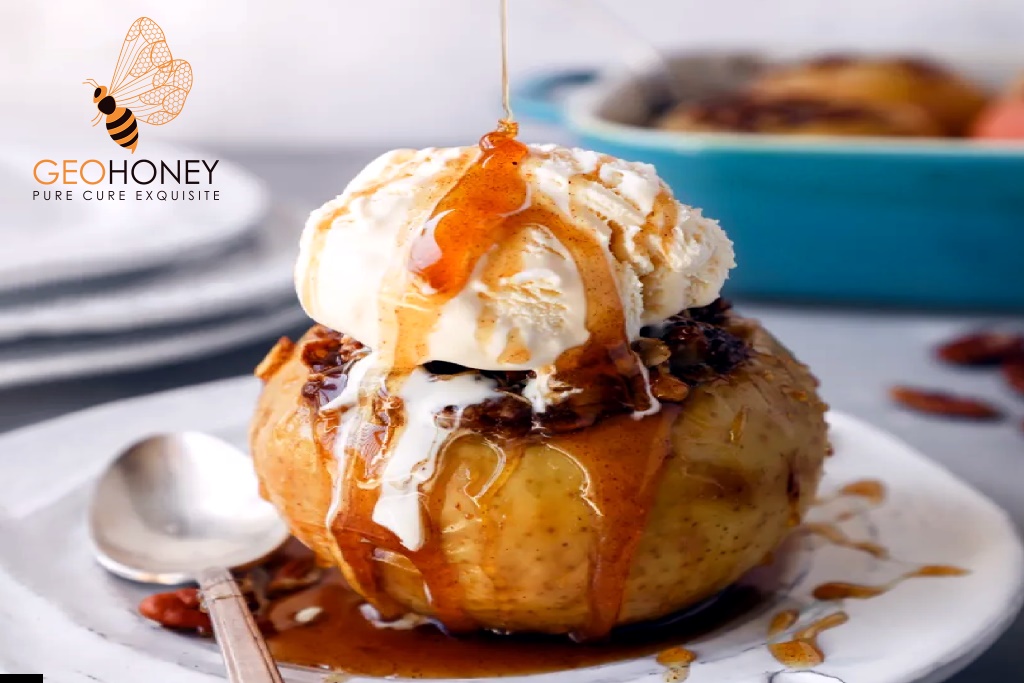 The apples are baked to perfection, with the proper blend of sweetness and spice. Honey & Cinnamon Baked Apples are sure to satisfy your taste buds and warm your soul, whether served as a cosy evening treat or at a dinner party. This classic dessert has been a favourite for generations, and for good reason. So let us delve into the world of baked apples and uncover the enchantment of this time-honoured dish.
Ingredients:
---
4 medium-sized apples

1/4 cup

honey

1 tsp ground cinnamon

1 tbsp unsalted butter, melted

1/2 cup rolled oats

1/4 cup chopped nuts (walnuts, pecans or almonds)
Instructions:
---
Step 1
Preheat the oven to 375°F (or 190° Celsius). Using parchment paper, line a baking dish.
Step 2
Remove the core from the apples but leave the bottom intact. Make a shallow cut around the centre of each apple with a sharp knife.
Step 3
Mix the honey, melted butter, and cinnamon in a small bowl until thoroughly blended.
Step 4
In a separate bowl, combine the rolled oats and chopped almonds.
Step 5
Brush the honey mixture all over each apple, making sure to coat the entire apple.
Step 6
Then, roll each apple in the oat and nut mixture, lightly pushing down to ensure it sticks to the apple.
Step 7
Bake for 30-40 minutes, or until the apples are soft and golden brown on the outside, in the prepared baking dish.
Step 8
Allow to cool for a few minutes before serving after removing from the oven.
These Honey and Cinnamon Baked Apples are a wonderful gluten-free dessert that will satisfy your sweet taste. Try them out for a delectable treat fit for any occasion!