Honey Cheesecake - A Delectable Recipe To Treat Your Sweet Tooth!
(June 15, 2022)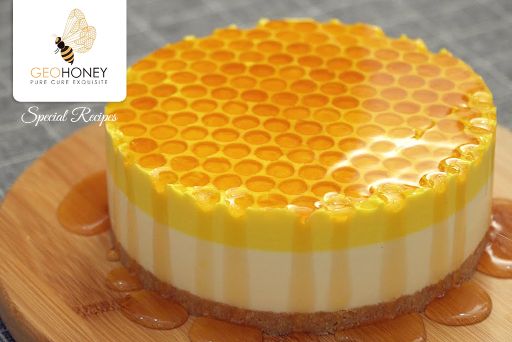 Delicious creamy honey cheesecake is a lovely treat for everyone. When you don't have extended hours to prepare an elaborate dessert, this sweet, rich and satisfying cheesecake is best to please guests or family members. The cheesecake is smooth in texture and features a delicate undertone of raw honey.
Let's have a look at this quick recipe when you are running out of time. Serve this delectable dessert with a drizzle of honey to make it healthy & attractive too.
---
Required Ingredients –
Butter – 2 Tbsp
Ground Walnuts - ⅓ cup
Vanilla Wafer Crumbs -¼ cup
Cream Cheese - 1½ lb
Honey – 3/4th Cup
Eggs – 3 No.
Heavy Cream -¼ cup
Vanilla Extract -2 tsp
All-Purpose Flour
Ground Cinnamon - ½ tsp
Salt - ¼ tsp
---
Directions To Make -
1. Preheat the oven to 325F.
2. Take an 8-9-inch springform pan and brush the melted butter inside it. Properly coat the sides and bottom of the pan.
3. Now mix walnuts and cookie crumbs in a small bowl, and spread it evenly once mixed well.
4. Take cream cheese and 3/4 cup honey in a bowl and blend them at medium speed until it turns smooth.
5. Take eggs and beat them one by one at a time in cream and vanilla. Once it is done, mix it with flour, cinnamon and salt. Pour this batter into the baking pan.
6. Bake it for about 1 hour and 10 minutes. You can even remove it from the oven once the cake turns lightly browned and a little puffed.
7. This yummy cheesecake usually jiggles in the centre and sets as it cools. It is suggested to let it cool on a wire rack for about 2 hours.
8. Cover it and keep it in the refrigerator. Drizzle two tablespoons of organic raw honey and garnish with berries or nuts, if desired, whenever you need to serve it.
This easy-to-make honey cheesecake recipe does wonders for guests when they pop around! So try making this delicious recipe today and we bet you'll fall in love with the rich taste of this sweet delight. Enjoy eating!