Honey Butter Cornbread - A Perfect Recipe To Satisfy Your Snack Attack
(June 08, 2022)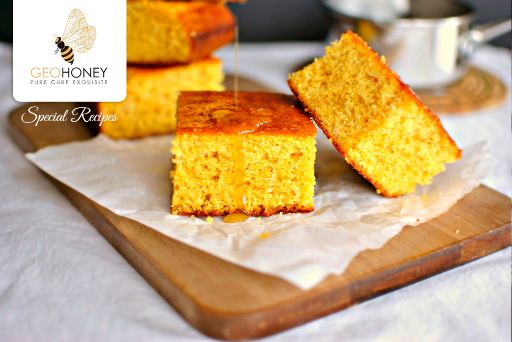 We all love to eat different varieties of food, and what's more good than having tasty food loaded with nutrition. Honey butter cornbread is one such food item that is loved by all! Honey butter cornbread is an all-time favourite recipe that has an intense butter flavour and natural honey sweetness.
Though this cornbread has a classic flavour, it's not the traditional one. It's improved, similar to Northern cornbread, however, it's made in a skillet, as Southern cornbread. It's generally in the middle on the sweetness scale and has a moist texture. The golden fluffiness inside will surely make you fall in love with its rich taste.
What's better than freshly made, warm and nutritious cornbread? So why wait for more? Let's make the food table more energizing with cornbread.
---
Required Ingredients -
Unsalted butter - ½ cup (1 stick)
Cornmeal - 1 ½ cups medium-grind or finer*
Wheat flour or all-purpose flour - 1 ½ cups
Fine sea salt -1 ½ teaspoons
Baking powder - 2 teaspoons
Baking soda - ½ teaspoon
Eggs - 3 No. at room temperature
Raw honey - ⅔ cup
Regular cow's milk, oat or almond milk, etc.) - 1 ½ cups
---
How To Make –
Preheat the oven to 375 degrees Fahrenheit. Put butter in a huge (12-inch) cast-iron skillet and heat it around for 5 to 13 minutes.
In the meantime, in a huge bowl, mix the cornmeal, flour, salt, baking powder and soda. Stir well and keep it aside. In a medium bowl, whisk the eggs and organic raw honey until entirely mixed. Add the milk and mix until uniformly combined.
Pour the liquid into the dry combination, and mix just until moistened (we'll mix it all the more soon). When the butter is melted and turned golden, remove the skillet from the oven and give it a delicate whirl to cover about an inch up the sides gently.
Mix the melted butter into the batter and stir just until combined well. Empty the batter back into the hot skillet.
Cautiously place the skillet in the oven and heat it for about 25 to 30 minutes. Prepare until the bread turns brown and a toothpick embedded in the middle comes out clean with just a few crumbs.
Carefully put the skillet on a cooling rack. Allow it to cool for around 5 minutes before cutting and serving—maybe with additional spread, honey or jam on the side.
This cornbread will keep in a sealed container at room temperature for as long as 3 days or as long as seven days in the fridge. You can also freeze it for as long as 90 days. Tenderly heat before serving.
And that's it! Being one of the easiest side dishes ever, it takes a few minutes to prepare it. It's moist, fluffy and extremely delicious to eat. It's a match made in heaven. Try this today! Stay tuned with Geohoney for more such delectable recipes.