Honey Berry Waffle Sandwich – A Yummy Bite For Little Ones
(July 13, 2022)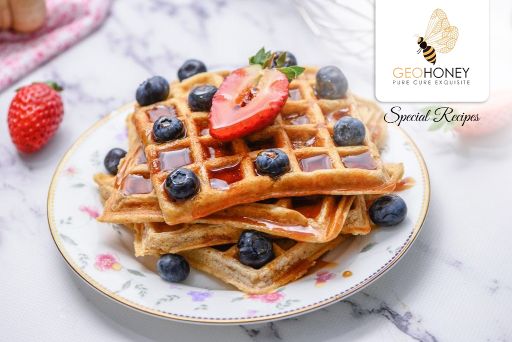 We all look for a fun way and lovely recipes to spend breakfast with kids. To help you out in this, we have come up with a delicious honey berry waffle sandwich recipe that your kids will surely love and is meant to cater to everyone. The rich taste it offers will actually make you feel like a kid when you will experience this sandwich for the first time.
From your favourite berries, the two waffles clasping those berries together for the best nibble and rich in natural honey syrup, this waffle sandwich will be a true treat! This is a great option when you are bored with the breakfast choices. With natural flavours and the goodness of honey, these waffle sandwiches taste light and fluffy – while offering the daily intake of whole grains to the body.
---
Required Ingredients –
Fresh Berries - ½ cups
Butter - 1 tablespoon
Natural Honey – 1/3 cup
For the Waffles –
Eggs – 3 nos.
All-purpose Flour – 2 and 2/3 cup
Vegetable Oil - 2/3 cup
White Sugar – 1 and 1/3 tablespoons
Baking Powder - 5 and 1/3 teaspoons
Salt - 1/3 teaspoon
Vanilla Extract - 1/3 teaspoon
---
Directions to Prepare –
(1) To make these sandwiches, you might use frozen waffles, yet you can also make your own if you have a waffle iron.
(2) Preheat waffle iron. Beat eggs in a huge bowl with a hand mixer until fluffy. Beat in flour, milk, vegetable oil, sugar, baking powder, salt, and vanilla just until smooth.
(3) Spray preheated waffle iron once it's prepared with non-stick cooking spray. Pour the blended mixture onto hot waffle iron. Cook until brilliant brown, and afterward set aside while keeping it warm (toaster or exceptionally low hotness in the oven).
(4) Take ½ cup of berries of your choice (raspberries, strawberries, blueberries, and so on) in a blender. Put away.
(5) Now, take a small-sized saucepan and heat it over medium hotness, and put butter in it. Add honey and bring it to a boil. Stew 2-3 minutes, and afterward, add the berry puree. Heat for 2-3 minutes more until the syrup thickens somewhat. Put honey syrup away and keep warm.
(6) For each serving, keep two waffles on a plate. Top 1 waffle with ¼ cup fresh berries. Drizzle with ¼ syrup, and top sandwich with remaining waffle.
This recipe is perfect for four servings, two waffles each. Switch to a healthier living by preparing delectable dishes and healthier snacks with Geohoney. Have a look at our more recipes to gain immense healthful benefits of honey in your daily diet. Grab your jar today!