Homemade Honey Almond Roca: A Must-Have Recipe For Your Parties!
(December 07, 2023)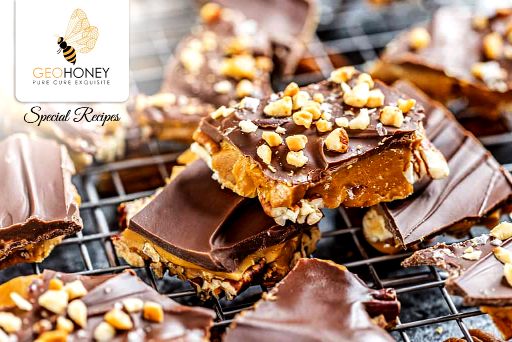 Homemade products are always the best when you need to treat your family & friends. It is surprisingly easy to make homemade versions of your favorite dish or dessert without worrying about the artificial sweeteners and chemical substances found in most foods nowadays. Honey Almond Roca recipe is no exception; made from high-quality butter, organic honey, healthy almonds, and delicious chocolate chips; this recipe is a must to have in your food list.
It can be effortlessly prepared with staples that you can generally find in your pantry. Read below the easiest recipe of our favorite occasion treats –
---
Required Ingredients –
Honey - 340 g (1 cup)
Butter - 227 g (1 cup)
Roasted Unsalted Almonds - 150 g (1.5 cups) roughly chopped
Chocolate Chips - 200 g (1 heaping cup)
Pinch of Sea Salt
---
Directions –
(1) Take a rimmed quarter sheet pan and line it with parchment paper.
(2) Now, take a heavy pot and heat it on medium flame. Add butter and honey into the pot and stir the mixture continuously until the mixture reads 310F on your candy thermometer. This is vital as the toffee can be burnt easily if the temperature mark is missed.
(3) Once the temperature is reached, quickly pour the mixture into your lined sheet pan. Spread the mixture evenly on the pan using a spatula.
(4) Quickly sprinkle the choco chips across the surface of the toffee. As these choco chips melt, spread them in an even layer across the top of the toffee.
(5) Once you have evenly spread the chocolate, sprinkle the remaining chopped almonds on the chocolate layer. You can sprinkle a pinch of salt to balance the sweetness if you want.
(6) After it is cooled completely, remove the Honey Almond Roca from the sheet pan and crack the large sheets of candy into brittle-sized pieces.
This Honey Almond Roca will be a great hit among your family members and friends. You can even use these candies as a healthy & natural gift option. Try making this yourself by using organic raw honey from Geohoney, and we bet you will surely fall in love with its rich taste.