Herb Chicken With Honey Butter – A Healthy And Quick Dinner Recipe
(October 05, 2022)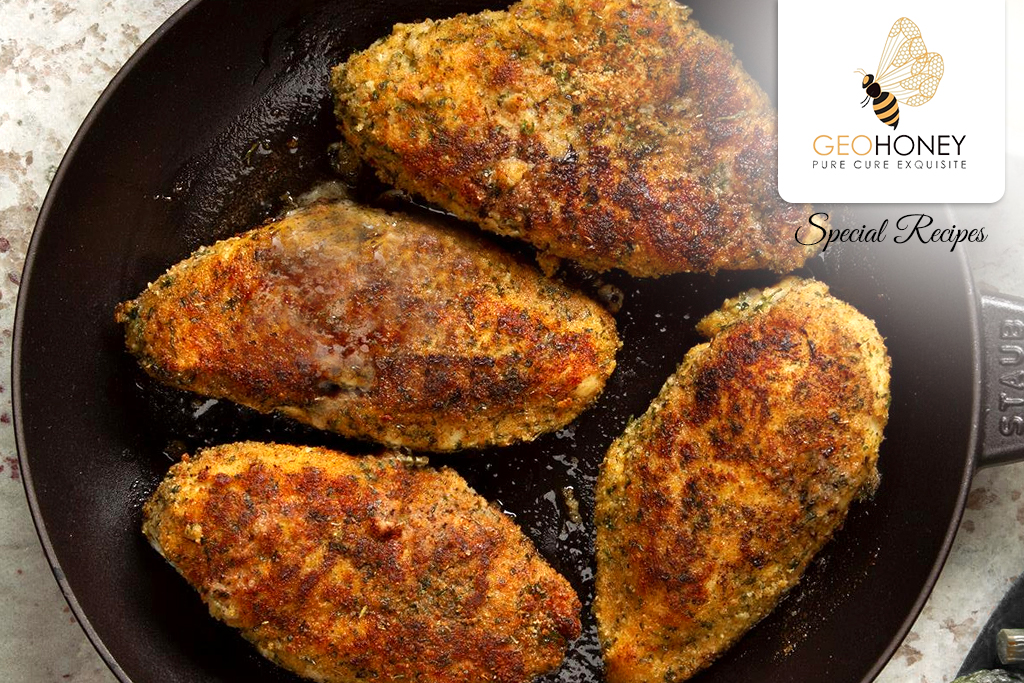 What's for dinner tonight? Herb Chicken for dinner today! Yay!!! When your family wants something super delicious, herb chicken with honey butter is a tasty meal that fits the bill. The herb's salty flavor mixed with the sweetness of honey makes this a favorite dish of all. You don't need to be a pro in the kitchen to make this delectable chicken dinner; all you need are simple ingredients and a jar of Geohoney to prepare this recipe.
---
Required Ingredients –
Bread Crumbs – ¾ Cup Seasoned
Parsley Flakes – 2 Tbsp Dried
Large Egg – 1 No. Lightly Beaten
Italian Seasoning – 1 Tsp
Chicken Breast Halves (Boneless & Skinless) – 4
Butter – 3 Tbsp
Garlic Salt – ¾ Tsp
Poultry Seasoning – ½ Tsp
For Honey Butter –
Raw Honey – ¼ Cup
Butter – ¼ Cup, Softened
---
Directions –
(1) Take a shallow bowl and put the egg in it. Next, take another bowl and combine bread crumbs and all seasoning. Dip chicken into beaten egg and coat it with bread crumb mixture.
(2) Take a heavy skillet and heat it over medium flame.
(3) Put butter on the skillet and cook chicken for about 4-5 minutes on each side.
(4) Take a small bowl and combine raw honey and softened butter.
(5) Once the chicken breast halves are cooked, serve them hot with honey butter.
Herb Chicken is full of unique flavors, butter, and honey – is your mouth watering yet? There is no need to step out of the home when you can make this restaurant-style herb chicken with honey butter at home easily & quickly. So get your Geohoney jar ordered today and savor the exquisite flavors of this chicken recipe.