Greek Honey Cookies: Fall In Love With The Gooey Goodness Of This Tasty Treat!
(August 03, 2022)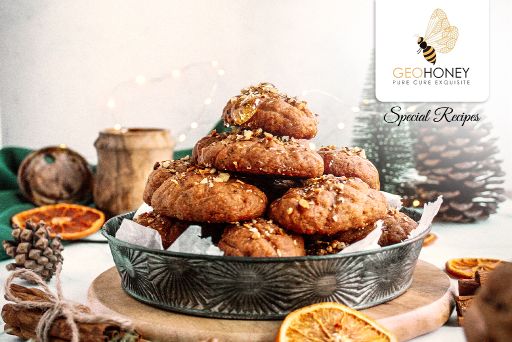 Greek honey cookies are a lovely treat known as Melomakarona. This moist cake-like cookie is an ultimate treat with all-natural ooey-gooey goodness enriched with sweet honey syrup. One can enjoy these cookies any time of the day year-round.
These cookies are one of the popular dishes in Greece and fill the home with an intense aroma of cinnamon, nutmeg, and cloves. These sweet little cookies can be baked quickly and are highly addictive. So, go ahead and read on to discover the quick and easy recipe to make this traditional Melomakarona to perfection.
---
Required Ingredients:-
(1) For Cookies –
Plain Flour – 6 ½ Cups
Ground Cinnamon – 1 Tablespoon
Olive Oil - 1 Cup
Vegetable Oil – 1 Cup
Walnuts Chopped – ¾ Cup
Baking Soda - 1 Teaspoon
Baking Powder - 2 Teaspoons
Orange Juice – ¾ Cup
Sugar – ¾ Cup
Zest Of 1 Orange
(2) For Syrup –
Honey – 1 Cup
Sugar – 1 Cup
Water – 1 ½ Cup
Cinnamon Stick – 1
Juice of ½ Lemon
Cloves – 4 No.
---
Directions –
1. First, preheat the oven to 350°F.
2. Now, take a large bowl and mix sugar and orange zest. Also, add olive and vegetable oil and mix them well.
3. While continuing mixing, add orange juice to it.
4. Take a separate bowl and sift the flour, baking soda, and baking powder. Give these ingredients a quick mix. Now add the liquid contents of the other bowl to the flour mixture slowly, mixing it in bit by bit.
5. Mix well until the dough becomes stiff.
6. Make small golf-ball-sized pieces and place them evenly on a baking sheet. Flatten the dough with a fork.
7. Put the baking sheet into the oven and bake for about 25-30 minutes.
For Syrup –
1. Take a saucepan and put honey, sugar, water, cinnamon stick, lemon zest, and cloves in it and bring to a boil.
2. Heat the saucepan on low heat uncovered for about 10 minutes.
3. As the syrup becomes thick, remove the cinnamon stick, lemon peel, and cloves from it.
4. At last, stir in the lemon juice.
Before serving, while the cookies are still warm, it is good to put some cookies in the raw honey syrup. This will allow the cookies to soak up the sweet goodness of the syrup. Remove the cookies after 30 seconds, place them on a serving tray, and sprinkle with walnuts and ground cinnamon.
If you haven't tried this recipe yet? It is the right time to cook it for yourself and your family. These cookies are lovely and delectable.
For more recipe ideas, check out more in our recipe section.