Geohoney Infused Chile
(February 02, 2022)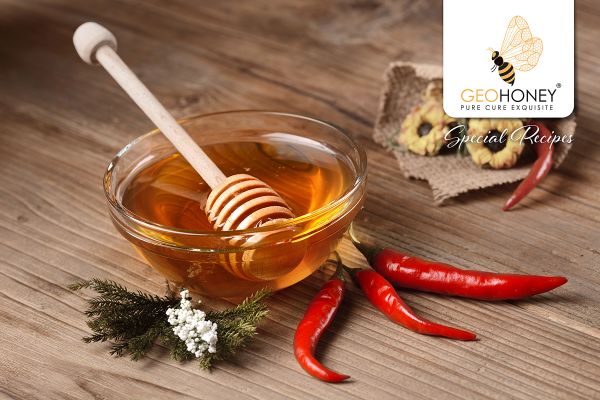 Tip of the day: Honey will never expire.
So, if you desire to preserve your beloved honey forever, keep a lid on it.
Speaking of recipes, you'll fall in love with the intense flavor of this infused honey, it can be used in salad dressings or marinades, it can be drizzled over cheese, toast, even on ice cream, or packaged in a cute jar to be given as a gift (just solved Christmas gift dilemma for you), go make someone happy!
Ingredients – a total of 4 items:
---
4 dried chipotle chiles
6 dried chiles de árbol
divided 1 & 1/2 cups of wildflower, or acacia or sidr honey
1/4 teaspoon of kosher salt
Preparation – a total of 2 steps:
---
Step 1
Drop in all the chipotle chiles alongside the five chiles de árbol in a mini food processor. Pulse them until chiles are coarsely chopped. Then, combine the chile mixture with honey and salt in a small saucepan over a medium-low heat, cook the ingredients for about 15 minutes while keeping the temperature under 180°F (82°Celsius), then remove the pan off the heat, let it cool for an hour.
Step 2
Place the remaining chile de árbol in a 2-cup glass jar with a sealable lid, then strain the honey mixture through a fine sieve into the jar, discarding solids. Seal the jar and store honey at room temperature.