Geohoney-Ginger Chicken Bites
(February 23, 2022)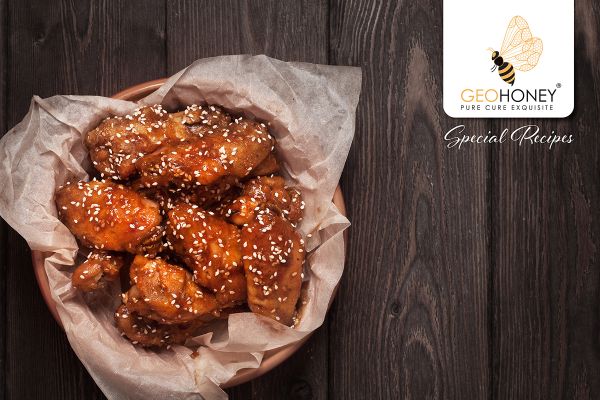 This one is a definite mood lifter!
These bite-sized chicken bites are soaked in a mixture of garlic, soy sauce, ginger, citrus, and that wonderful ingredient we call honey.
The marinade is then reduced and used to glaze the chicken.
Ingredients – a total of 16 items:
---
2/3 cup of Kashmiri honey
2 tablespoons of minced peeled fresh ginger
2 tablespoons of fresh lemon juice
2 tablespoons of cider vinegar
2 tablespoons of low-sodium soy sauce
2 teaspoons of dark sesame oil
1 teaspoon of grated orange rind
1 teaspoon of Worcestershire sauce
4 garlic cloves (minced)
1 & 1/4 pounds of chicken thighs (skinless, boneless and cut into bite-sized pieces – around 16 thighs)
Cooking spray
1 teaspoon of salt
1/4 teaspoon of black pepper
2 teaspoons of cornstarch
2 teaspoons of water
2 teaspoons of sesame seeds (toasted - optional).
Preparation – a total of 6 steps:
---
Step 1
Combine the first 9 ingredients in a large zipped-top plastic bag, seal it and shake well.
Add the chicken; seal the bag and toss to coat.
Refrigerate the ingredients inside the bag for at least 2 hours or even better let it stary overnight, while turning occasionally, to fully marinate
Step 2
Preheat oven to 425°Celsius.
Step 3
Remove the chicken from the plastic bag, reserving the marinade.
Then arrange the chicken in a single layer on the rack of a broiler pan coated with cooking spray.
Sprinkle salt and pepper on the chicken.
Bake it 425° for 20 minutes, stirring it once.
Step 4
While the chicken being cooked, strain the marinade through a sieve into a bowl then discard the solids from it.
Place the marinade in a saucepan then bring it to a boiling point.
Cook for 3 minutes and skim the solids from the pan's surface.
Combine cornstarch and water in a small bowl then stir with a whisk.
Add cornstarch mixture to the pan then stir it with a whisk, post which, cook it for one minute.
Remove away from the heat and pour the glaze into a large bowl.
Step 5
Preheat the broiler.
Step 6
Add the chicken to the glaze, toss it all well to coat.
Place the chicken mixture on a jelly roll pan, let it broil for 5 minutes, until it's browned, stir it twice.
Lastly, sprinkle sesame seeds on it, if desired.