Geohoney Chicken Wings
(January 19, 2022)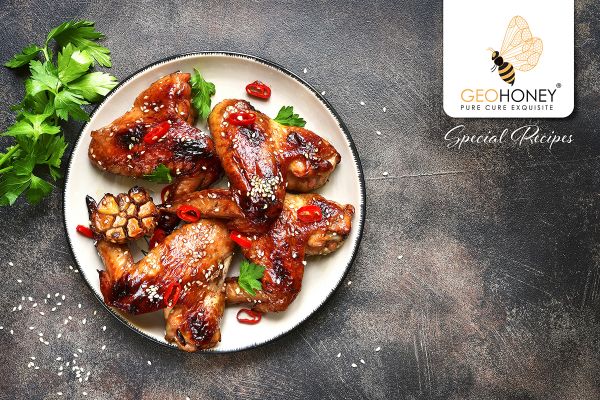 A recipe that goes along with any type of honey you prefer, it's best to remove the skin from the wings, allowing the meat to melt along with the honey, for an irresistible crispy crunch as the broiler cooks the honey-glaze.
Ingredients – a total of 11 items
---
Cooking spray 20 large chicken drumettes (skinned)
2 tablespoons of toasted sesame oil
Divided 5 tablespoons of Sumor Acacia honey
1/4 cup of unsalted chicken stock
2&1/2 tablespoons of reduced-sodium soy sauce
2 tablespoons of rice vinegar
1&1/2 tablespoons of sambal oelek (ground fresh chile paste)
1 tablespoon of minced fresh ginger
1 tablespoon of minced fresh garlic
3 tablespoons of chopped fresh cilantro
2 tablespoons of unsalted roasted peanuts (chopped)
Preparation – a total of 3 steps
---
Step 1
Preheat the broiler with a rack maintaining a distance of 6 inches from the heat.
Step 2
Coat a large foil-lined baking sheet with cooking spray, then combine the chicken with one tablespoon of oil on a prepared pan (toss to coat). Broil the meat for around 13 minutes, while ensuring you consistently turn the chicken over for about 3 minutes.
Step 3
While you're at it, mix the honey, stock, soy sauce, vinegar, sambal, ginger, garlic, and the remaining 1 tablespoon of oil in a small skillet right on a medium-high heat.
Let the mix be brought close to a boiling point, then cook the mix for about 13 minutes or until it becomes syrupy-like and reduced to about 2/3 cup, ensure to stirrecurrently.
Brush the chicken with 3 tablespoons of honey mixtureand return to broiler for 2 minutes or until it becomes lightly charred. Then, place the chicken in a large bowl, drizzleit all with the remaining honey mixtureand toss to coat. Sprinkle cilantro and peanuts over the chicken evenly.