Geohoney-Berries & Fresh Cheese
(February 16, 2022)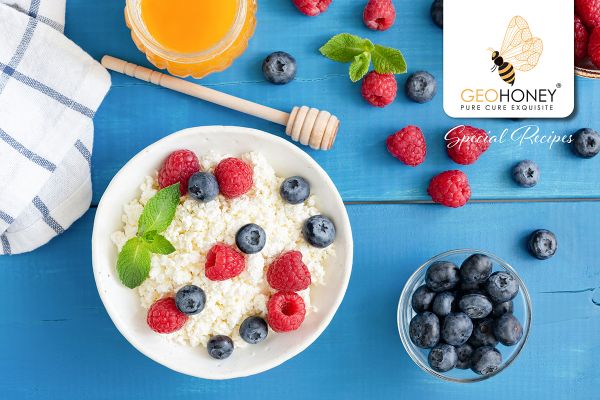 You can tune this dessert recipe to your own taste by simply adjusting the blend of berries, the amount of honey, or even the amount of cheese.
The luxury lies in the amount of berries. Fromage blanc is delightfully subtle, you can use Greek yogurt as it's tangier.
Ingredients – a total of 8 items:
---
1 cup of blueberries
1 cup raspberries (divided)
1 cup blackberries (divided)
6 tablespoons of black seed or sidr honey
4 large basil leaves
1 vanilla bean (torn & halved lengthwise)
2 cups of 0% fat fromage blanc
6 small basil sprigs
Preparation – a total of 3 steps:
---
Step 1
Create a combination of half of the berries and honey in a small saucepan on a low heat, then cook them for about 8 minutes, or until they are slightly warmed while gently stirring occasionally. Then, remove from the heat and stir in basil leaves.
Step 2
Scrape the seeds off from the vanilla bean, then combine the seeds and cheese in a small bowl, and stir it well.
Step 3
Scoop about 1/4 cup cheese mixture into each of the 6 glasses or small bowls.
Top each serving with about 1/4 cup of warm berry mixture.
Top each serving with 1/4 cup of the remaining fresh berries and a basil sprig.
Serve immediately!