Corn Spinach Honey Toast – A Quick Snack To Relish Your Taste Buds
(December 07, 2023)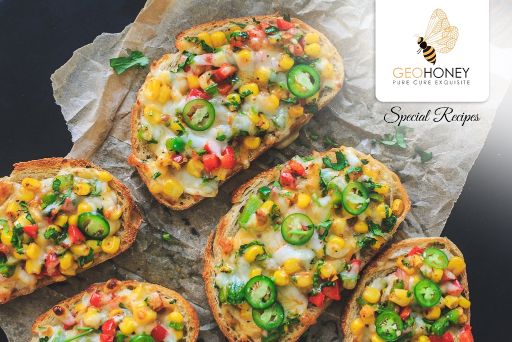 We all search for some filling snacks that are ideal when you are tired and not in a mood to cook something that requires much time. The gooey, cheesy mixture interspersed with mildly sweet corn and goodness of natural honey defines this recipe. Corn Spinach Honey Toasts are very satisfying, as they are ready in minutes without sweating too much in the kitchen.
It also works excellent as an appetizer! You can even keep the corn mixture prepped ahead of time and then pop them in the oven when you're ready to serve! But make sure not to add cheese prior! So let's start with the recipe of this yummy snack –
---
Required Ingredients –
Brown Bread - 6 slices
Spinach (chopped & boiled) - 1 cup
Corn Kernels (boiled) - 3/4 cup
Butter/low fat variant
Oil - 1 tsp
Salt – As per the taste
Pepper
Natural Honey
Oregano & Chili Flakes – For garnishing
---
Directions –
(1) Take the bread slices and cut them all into two triangular halves.
(2) Take a small pan to soften the butter and spread it all over each bread slice.
(3) Next, spread a layer of spinach on the bread slices.
(4) Take corn kernels, sprinkle some pepper and salt on it as per your taste, and mix well.
(5) Now spread these corn kernels as the next layer on the bread slices after spinach.
(6) Take a non-stick pan and heat 1 tsp of oil on medium heat.
(7) Place the bread slices on it from the bottom side.
(8) Once the bottom side turns golden brown, turn the bread upside down carefully without disturbing the spinach & corn layer and toast that side as well.
Corn spinach honey toasts are now ready! Serve these toasts immediately by garnishing them with chili flakes and oregano. You can also drizzle some honey on these toasts making them more delectable.
Stay in touch with us to know more about such mouth-watering recipes.