Clover Honey Biscuits
(April 06, 2022)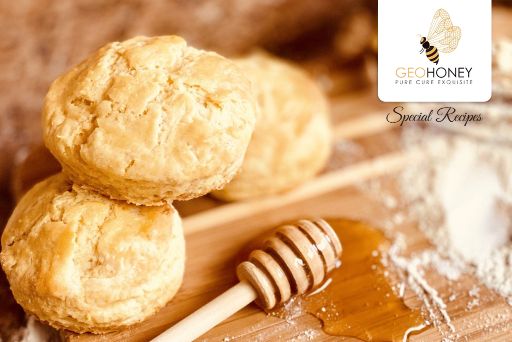 Clover honey is one of the most popular kinds of honey, it is the most sought-after honey and has perceived a surge in consumption across the world. It's ability to simulate antibodies in the body is well-known and makes this type of honey even more necessary for humans. Consumption of Clover honey also helps to balance the blood chemistry in the body. With so many benefits of clover honey, Geohoney decided to bring you one of the most nutritious and healthy clover honey recipes- Clover Honey biscuits. Let's admit we all eat biscuits, why not switch it to a healthy supplement with yummy taste! Bake these biscuits and serve everyone.
Ingredients:
---
2 tablespoons clover honey
2/3 cup non-fat buttermilk
2 teaspoons chopped fresh thyme
2 teaspoons grated orange
Spelt/Wheat flour (about 2 cups)
5 teaspoons baking powder
1/4 teaspoon salt
5-1/2 tablespoons chilled butter
Cooking spray
Let's bake:
---
Preheat oven to 425°. This is just the right temperature for biscuits.
Combine the buttermilk, thyme, oranges, and honey in a small bowl, stirring with a whisk.
Mix flour, baking powder, and salt in a medium bowl, stirring with a whisk.
Cut small pieces of butter, not to melt it but just small enough so that the butter is still hard.
Add the firstly prepared honey mixture into the flour mix, stirring just until moist. Turn dough out onto a lightly floured surface; pat into a 7 1/2-inch square; cut into 12 rectangles.
Place the dough into a baking tray foiled and covered by cooking spray. Bake at 425° for 12-15 minutes or until lightly browned on edges and bottom.
Store in an airtight container and eat on the go.
Clover honey is among the rare raw honey which cannot be easily found in best quality. Turn to Geohoney, the world's best honey business, where you can find each and everything, all types of rare honey, all the information you about honey and honeybees, latest news, recipes and much more. To find the best clover honey, visit Geohoney.