Berry Jam And Honey Cobbler Recipe
(January 04, 2023)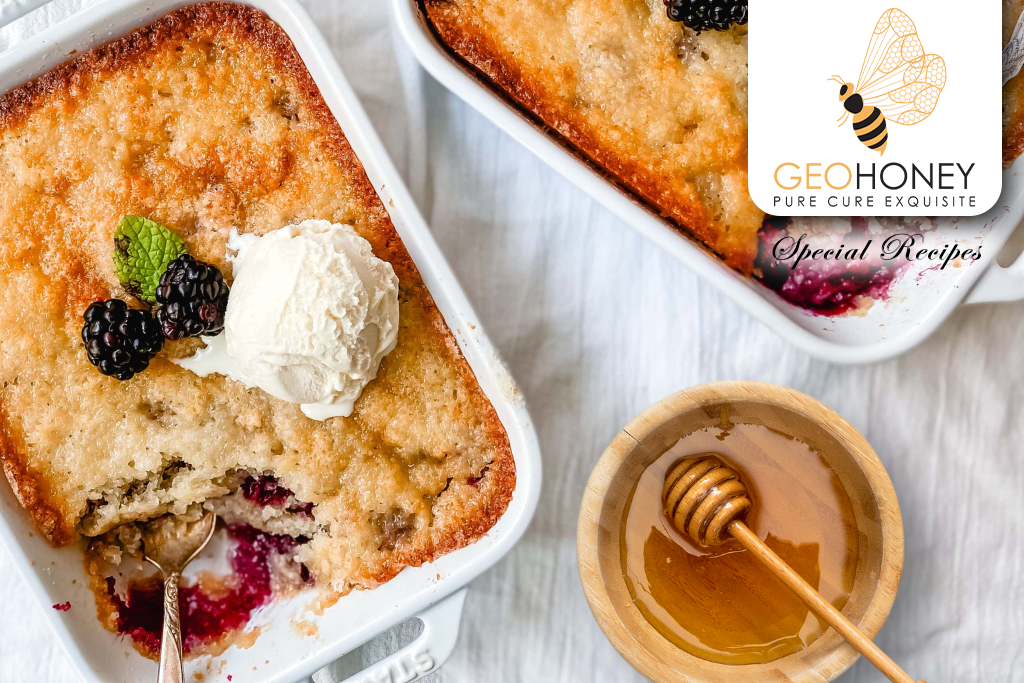 We all love desserts, and when it's filled with berry jam and topped with cream, nothing can be more delicious than this. Berry Jam and Honey Cobbler recipe is a perfect ode to all the people with a sweet tooth. So, let's begin with the recipe –
---
Required Ingredients –
Rhubarb – 800 Gm (Trimmed, Cut into 6cm Pieces)
Mixed Frozen Berries – 4 Cups
Caster Sugar – 1 Cup
Ground Allspice – 1/8 Tsp
Geohoney – ½ Cup
Cornflour – 1/3 Cup
Cream or Vanilla Ice Cream
Oranges – 2 Finely Grated Zest & Juice
For Topping –
Self-Raising Flour - 2 Cups
Baking Powder - 1 1/2 Tsp
Almond Meal – 120 Gm
Caster Sugar – 190 Gm
Cold Unsalted Butter – 300 Gm
Cold Milk - 1/2 Cup
---
Directions –
(1) Preheat the oven to 180°C.
(2) Take a large bowl and place rhubarb, berries, sugar, allspice, honey, and orange juice in it and stir to combine.
(3) Transfer the mixture to a 2.5L - capacity flameproof baking dish and place it over medium heat.
(4) Stir the mixture continuously and cook for 20-25 minutes until the sugar has dissolved completely and the liquid has reduced to one-third.
(5) Next, take a small bowl and put cornflour, 2 tbsp water, and 2 tbsp berry liquid in it.
(6) Stir to dissolve the cornflour, and then add to the berry mixture and cook, stirring, for 1-2 minutes until all the ingredients combine well.
(7) Remove from heat and place the dish on a baking tray.
(8) To prepare the topping, put the flour, baking powder, almond meal, sugar, and butter into a food processor and beat until the mixture resembles breadcrumbs.
(9) Add reserved orange zest and milk, and whiz until dough forms.
(10) Roll the dough into tablespoon-sized balls and arrange them on top of the jam.
(11) Bake for about 40-45 minutes until the jam is bubbling and the topping turns golden. Remove from the oven and rest for 10 minutes.
(12) As per your choice, top with cream or ice cream and the dish is ready to serve.
This recipe is the best to create wonderful memories and super delicious dessert treats in your very own home. Explore Geohoney's recipe section to know more about such delectable desserts.