Baked Apple Fritters - A Yummy Recipe With Deliciousness Of Honey Glaze
(June 01, 2022)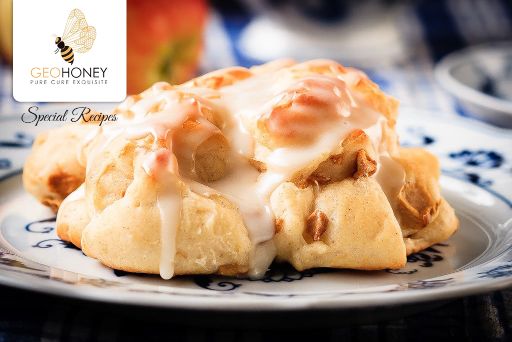 Baked apple fritters are one of the most loved food items by all. Being extremely easy to make, these fritters are a great treat! These Baked Apple Fritters require only a small bunch of simple ingredients and are prepared in quick 30 minutes, and are ready to eat anytime! With a caramelized, crunchy outside and delicate, fluffy inside, these baked apple fritters are the ideal way of beginning a fall morning!
---
Required Ingredients –
All-purpose flour – 1 cup
Cake flour – 1 cup
Baking powder – 2 tsp
Kosher salt – 1 tsp
Honey – 1 cup for fritters, ½ cup for honey sauce
Large eggs – 2no.
Cream - ¾ cup
Melted butter - 2 tbsp
Apples (Finely diced) – 2no.
Water - ½ cup
---
How To Make Baked Apple Fritters With Honey Glaze?
(1) This wonderful recipe starts with preparing the biscuit-style dough. Mix all dry ingredients (flour, salt, sugar, cinnamon and baking powder) correctly in a mixing bowl.
(2) Now add butter into the dry ingredients and stir well. This is the best way to start the crumb mixture.
(3) After this, put some finely diced apples in the mixture.
(4) Once all these ingredients are mixed thoroughly, add milk and gently stir to make a thick batter.
(5) Get a cookie sheet lined with parchment paper and drop the batter with big spoonfuls.
(6) Bake it for 11-13 minutes, or until the bottom becomes golden brown and the center is perfectly set. Once done, remove the cookie sheet to a wire rack and turn the oven to broil.
(7) Mix 1 cup of honey with half a cup of water and stir well to let them mix properly. Brush a thin layer of this prepared glaze over fritters.
(8) Broil for 2-4 minutes, or until the tops turn golden brown and the glaze bubbles.
(9) Once done, brush the remaining glaze over the warm fritters and allow it to harden and serve.
(10) Sprinkle them with cinnamon sugar when cooled to give them a fresh taste.
(11) Eat these fritters the same day to experience the rich, delicious taste.
Chunks of apples mixed in chewy dough and glazed with yummy honey sauce make these fritters simply irresistible. Try baking these today with Geohoney's best products!
These delectable baked apple fritters are destined to be a new family favorite!